Terry Marshall backs Samaritans new listening campaign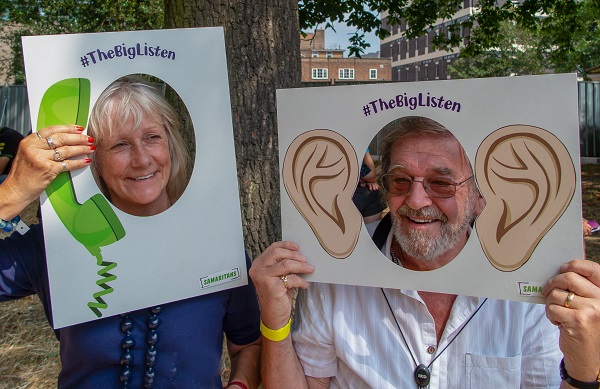 Lesley & Terry Marshall, supporting Ealing Samaritans #TheBigListen prior to Terry's appearance as saxophonist with Robert Hokum's Ealing Blues All Stars
One of the big names of rock has lent his support to The Samaritans #TheBigListen campaign.
Pictured with his wife Lesley, at this weekend's Ealing Blues Festival, Terry Marshall worked with father Jim to develop and market the first powerful guitar amplifiers in the mid 1960s.
Marshall amplification went on to be used ever since by the worlds top guitar players from Eric Clapton, Pete Townsend and Jimi Hendrix to AC/DC, Guns n Roses, Spinal Tap, and ZZTop.
This week Ealing Samaritans have been at Ealing Broadway Station asking commuters and visitors to improve their listening skills using its 'SHUSH' listening tips.
It's part of a nationwide push to raise awareness and funds for Samaritans, and at the same time show how really listening to another person can be the first step to saving a life.
Samaritans Listening Tips or S-H-U-S-H! are:
Show you care: focus just on the other person, make eye contact, put away your phone
Have patience: it may take time and several attempts before a person is ready to open up
Use open questions: that need more than a yes/no answer, & follow up e.g. Tell me more
Say it back: to check you've understood, but don't interrupt or offer a solution
Have courage don't be put off by a negative response and, most importantly, don't beafraid to leave silence
Anyone can contact Samaritans for free any time from any phone on 116 123 (this number is FREE to call and will not appear on your phone bill), email jo@samaritans.org, or visit Ealing branch at Junction Road, Ealing, W5 4XL where you can talk to one of our trained volunteers face to face.
All Samaritans branches are individual charities. Ealing Samaritans (registered charity no. 1173588) is only able to provide emotional support thanks to the donations and legacies and fundraising by our supporters.
For more information about Ealing Samaritans please contact Ann McLaughlin, director on 07766 178599 or Roger Green, branch publicity officer 07779 704756.

August 2, 2018