Follows the death of cyclist Claudia Manera after Uxbridge Road collision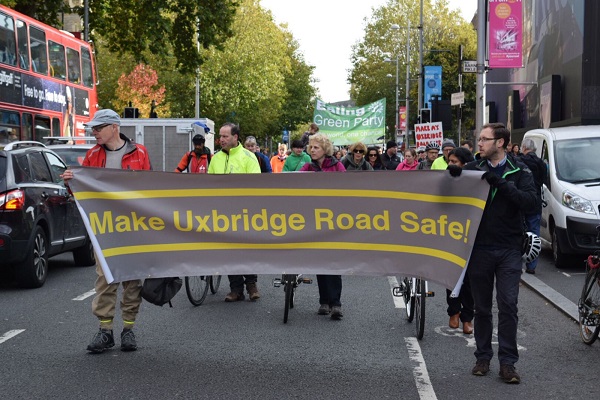 ( photos courtesy Liz Jenner)
Around 250 people attended a rally in Ealing today Sat (28th) to both commemorate the life of Claudia Manera – the cyclist recently killed in an accident on Uxbridge Road - and also gather 1500 signatures on a petition to oblige Ealing Council to review the safety of roads in the borough with a commitment to rectifying known 'black spots'.
Safety campaigners there, said in the past five years, 2 pedestrians and a cyclist have lost their lives on Uxbridge Road with another 46 seriously injured.
The protest, which included children, wheelchairs – even some roller blades - gathered at the Town Hall before making its way up to the junction with Northfield Ave – where the fatal accident occurred. The crowd then stopped for a minute's silence before making its way to nearby Dean Gardens for a well-organised rally.
Many of those present had been friends with Claudia who had served as a police officer before becoming a fitness instructor. Rupa Huq MP also attended as did many local councilors and members of cycling groups.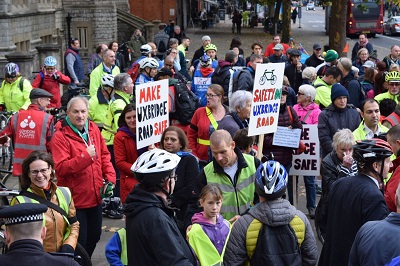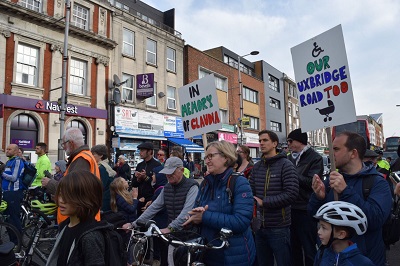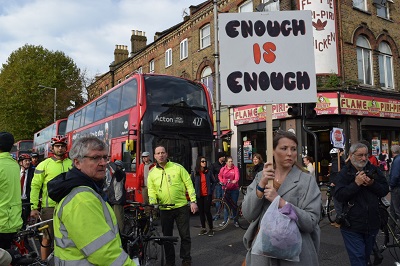 A message from Caudia's family in Italy was read out to the crowd – speaking about her love of sport and her job as a fitness instructor and how she'd done the London Marathon once and its counterpart in Paris too.
Council leader Julian Bell – himself a cyclist – had told me earlier how he is committed to making cycling safer "I won't rest until it's safe".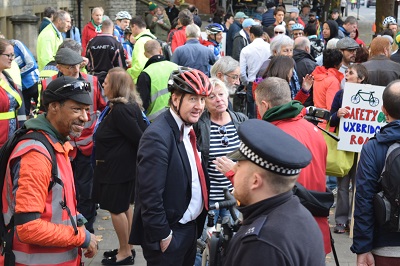 Later, at the rally, he perhaps misjudged the mood slightly. He was telling the crowd about setting up a Cycling Commission which is due to report soon on safety issues but got heckled by cyclist Darren Leroy Halford who said it was a time to commemorate a life, not a time for politics.
Ccllr Bassam Mahfouz –Cabinet Member for Environment, Transport & Leisure and himself another keen cyclist - says there is an open meeting on November 7th in the Town Hall at 18.00.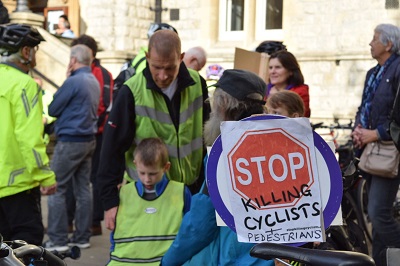 Viv Ellis
28th October 2017