But it's all in a good cause
The Log Cabin in Northfields stands to benefit after thousands took part in the highly popular Yellow Umbrella Day on Sunday (20 September).
Local councillor David Millican, joined the race along the River Thames near Chiswick running 10K in support of the local charity.
The Log Cabin is a highly regarded unit providing adventure play particularly aimed at children with special needs and disabilities.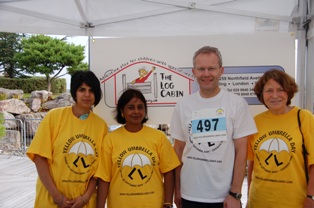 In the photo are play workers Poonam Ahir and Kamlesh Vadhan, Councillor David Millican and chair of Trustees Helen Johnson and Councillor David Millican
September 21, 2009