Ealing Trailfinders v Henley Hawks - National 2 South
Ealing Trailfinders return to Vallis Way this weekend, after their postponed game away at Dings and welcome Henley Hawks to West London, weather permitting for this National 2 South fixture.

Despite the cancellation of last weekend's fixture at Dings , Ealing's Director of Rugby Mike Cudmore did not view it as a negative, he said " Having last week off due to the weather was not a bad thing for us. A lot of players have not had a Saturday off since the pre season and not playing last week has enabled some players to take a deserved day off and also allowed us to rehab others. There are some teams who have missed two weeks on the trot and this can be very disruptive if you can not train outside also. "

Mike continued " We are looking forward to Saturdays home game against Henley. They are a good side and we will need to be at our best at the weekend to meet their challenge".


The Hawks made a great start to this season, and currently sit in 7th place in N2S, a return of 8 wins and 4 losses from their 12 starts so far. They have also picked up 10 bonus points.

Early wins over Taunton (36-12) , Clifton (42-14) , and Westcombe Park (27-32) set the tone for the start of their season. A close loss to Jersey at Dry Leas followed (22-33). A thumping away to OA's ( 50-23) and a close win away at Shelford (7-13) showed a change in fortune for Henley. Their recent form has been patchy, beating Southend, but loosing to Canterbury and Dings.

They do possess some classy players . In Ex Ealing hooker Andy "Kenny "Dalgleish ,centre Ali James, and also number 8 Matt Payne they have 3 players that can change a game. Young stand off Danny Wells is also a danger man.

Ealing's skipper Ben Ward said " Henley are a good team. They play an attractive and expansive style of rugby the way the game should be played. Each week in this league brings new challenges and its about fronting up and meeting these challenges. The weather has been a distraction over the last 10 days but we have been able to get some good training sessions in and allowed some guys with knocks to recover. I expect both teams to be pretty fresh come Saturday and an exciting afternoon of rugby."


Ealing's England U20 hooker Rob Buchanan has been at the centre of everything good about the Vallis Way side this season, for a front row player he regularly gets himself on the score sheet, and his last score against Canterbury showed he must be playing in the wrong position!

This is down to the style of rugby that Ealing play. The season for the dual registered Quins player started off with a place in the England U21 World cup squad in Argentina. He said" So far I think the season has been great so far we have been playing some excellent running rugby and subsequently got some big scores, but of course there is also room for improvement and its a long season so there is still more great rugby to come!

He added , "Being top of N2S , everyone wants to have a go at you and brings their A game along with them. Everyone enjoys winning and being at the top of the table which is great and that's where we deserve to be and should be with the way we play, but everyone knows that we have to take it a game at a time".

Not only does he score tries but he is also a star of the small screen - Watch the ad's before the Rugby Club on Sky - A thespian in the making ??
A history of the Hawks

Henley RFC was founded in 1930 as Old Henleiensians (old boys of Henley GS).
Always a vibrant and locally respected Rugby Club, Henley's fortunes began to soar when SIR CLIVE WOODWARD became the 1st XV coach in 1990.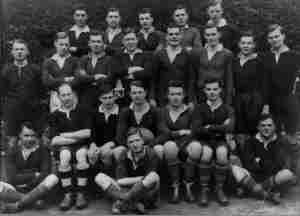 In year 2000 Henley had reached their pinnacle with a midway position in National One (as was) and a top 25 position in National league rugby.
Around the same time Henley took the scalp of then premiership side Bedford in the latter stages of the National Knockout Cup and narrowly lost to Gloucester at Kingsholm in the next round.
Right now Henley occupy a respectable top 50 spot, firmly established in National 2 South with an eye to climbing back up the pecking order.
Take London Irish out of the scene (they play in Reading at the Madejski but their base is in Middlesex), then Henley are clearly the premier club in the Thames Valley.

Take the Madejski Stadium out of the equation and it is hard to think of a ball playing arena in the Reading area (population 200,000) which can surpass the current gates (circa 400) watching Henley's flagship side HENLEY HAWKS on a Saturday afternoon.
Henley's ground DRY LEAS is the club's 'jewel in the crown'. The ground is barely a stone's throw from the river and reflects everything that you might expect from the world famous regatta town of Henley–On–Thames. Beautifully appointed Dry Leas boasts one of the finest playing surfaces in the country.
Henley Hawks in 2010 The Hawks have scored 45 tries so far this season ; 35 by their backs and 10 from the piggies, compared to Ealing's 88 tries. Ealing have scored 54 at home ( 26 in the first half, and 28 in the second) . Henley away from Dry Leas have scored 19 tries - split 7 and 12. Danny Wells tops the points list with 74 against Ealing's Neil Hallett's 189. Wing Chris Bart and stand off Tom Allen are their top try scorers with 9 tries each ( Phil Chetsers tops the list on 21). Rob Buchanan continued ahead of the Henley game " Its great to play at Vallis Way , its a great ground and Henley is another a big game at home so we will be wanting to put on another big performance. They have a good wide game which is similar to us as we like to throw the ball around as well, so should be a great game to watch as long as the weather holds!".

Recent fixtures between Ealing Trailfinders & Henley Hawks
06/03/10 Henley 19 Ealing Trailfinders 19
07/11/09 Ealing Trailfinders 36 Henley 25
28/02/09 Ealing Trailfinders 37 Henley 15
08/11/08 Henley 10 Ealing Trailfinders 15
Other fixtures in N2S this weekend
Clifton v Worthing Jersey v Hinckley Newbury v Canterbury Richmond v Lydney Southend v Old Albanians Taunton v Dings Crusaders Westcombe Park v Shelford
08 December 2010