Pensioner still in hospital with head and leg injuries
An elderly man has been injured in a road accident at the junction of Uxbridge Road and Boston Road on Sunday (2 Dec).
Police were called to W7 just before 10am to a crash involving a car and pedestrian.
The road was closed and diversions were put in place.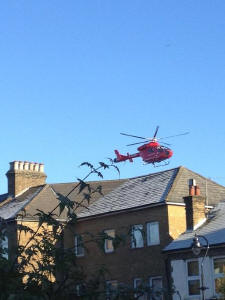 Photo courtesy of @Steve_Townley via twitter
The air ambulance attended and the 79 year old male pedestrian was taken to a west London hospital where he was treated for head and leg injuries.
He remains in hospital being treated for his injuries.
The driver of the vehicle was arrested at the scene and was taken to a west London police station.
4th December 2012