5 appear in court accused of stealing from Seba Electronics
A total of 22 arrests have now been made in connection with the looting of shops in West Ealing including the Seba Electronics store.
At around midnight on the 8th August a large number of people attacked the premises causing extensive damage to shutters and windows. The shop was broken into and stock including TVs DVD recorders, computers and microwaves to the approximate value of £200,000 was stolen.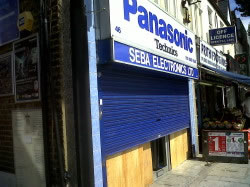 Last Friday (12th August) 2 men appeared at Westminster Magistrates Court and were charged with burglary. They were Abdullah Ansari, of Bayham Road, W13 and Armin Naserbakht, of Chilham Close, Perivale both aged 22.
Three men appeared at Camberwell Green Magistrates Court on Wednesday 10th August and were charged with burglary. They were David Benjamin, aged 25 of King Street, W6, Frederick Osei, aged 22, of James Bedford Close, Pinner and Pierre Wilkinson, aged 20 of Fore Street, Pinner. They have all been remanded in custody.

8 men aged 19 to 26 have been bailed to appear at various London police stations after having been arrested in possession of property from the venue.

A further 9 men aged between 22 and 30 remain in custody at various Police Stations across London awaiting a charging decision from the Crown Prosecution Service in relation to Handling stolen goods

August 17, 2011