and presents gifts from the Mayor's Relief Fund
Related Links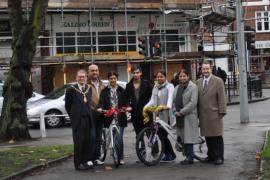 Ealing Mayor John Gallagher and Leader Julian Bell with singer Junai Kaden alongside the Khurmy family outside their burnt shop on Ealing Green
Participate
Sign up for our free newsletter
Comment on this story on the
Two girls whose bikes were destroyed in a fire at their parents' shop in Ealing Green during the August riots were presented with new ones by bhangra singer Junai Kaden.
Mayor of Ealing, Councillor John Gallagher and Council Leader, Julian Bell, joined the star to present the girls with new bikes in time for Christmas.
Kiran,16, and Simmi,12, are the daughters of Amrit and Ravi Khurmy whose supermarket, Ealing Local, on Ealing Green, was burnt down on 8 August. The bikes were in the building when the property was set on fire.
The Mayor's Relief Fund, which was set up in memory murder victim Richard Mannington Bowes who died after being attacked during the riot, was used to pay for both bikes. Raffles, collections, gigs and auctions were among the activities organised by residents and businesses to raise money for the fund, which stands at £3,000.
Council leader, Councillor Julian Bell, said: "Although the riot was awful, the silver lining was that it showed what a strong and resilient community we have. I'm delighted that Ealing residents and businesses rallied round to raise so much money for the fund. Everyone has been very generous and I'm pleased that Kiran and Simmi are the first to benefit.
"I'm sure the girls will be thrilled to meet Junai and I'd like to thank him for giving up his time to help give the girls a Christmas to remember after the horrible few months they've had."
The rest of the Mayor's Relief Fund has not yet been allocated.


22 December 2011