Christopher Render has been sentenced to seven and a half years
A man who assaulted a vulnerable man in Ealing and robbed and assaulted a shopkeeper on Mattock Lane has been jailed for seven and a half years.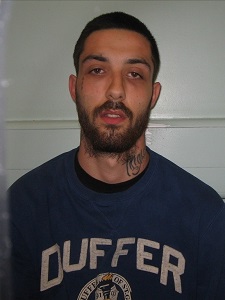 Christopher Render, 23 of Harkett Close, Harrow was sentenced at Isleworth Crown Court on Thursday, 10 December, after pleading guilty the same day to causing grievous bodily harm with intent and robbery.
On 11 April 2014, Render befriended a 23-year-old man with mental health issues at a bus stop in Ealing Broadway. They bought alcohol and went to the man's address, where Render signed in using a false name, and they spent several hours drinking.
Render continuously pestered the man for money and cigarettes and the man repeatedly told him that he did not have either. Render then struck him on the head with a bottle several times and ran out of the building.
The victim was taken to hospital where he was treated for a fractured skull and bleeding on the brain. Render was identified from CCTV and later arrested. The injured man refused to assist police at that time, which led to no further action being taken against Render.
On 7 July 2015, Render entered a mini market in Mattock Lane, Ealing with his hood up and pulled tight. He pushed over the shopkeeper and moved behind the counter where he opened the till and took money.
The shopkeeper tried to leave the store to shout for help, but an unidentified accomplice was holding the door shut. The shopkeeper wrestled with Render and managed to pull off his hooded top and a neck chain. Render ran from the store and was pursued by the shopkeeper and another man.
Police on patrol in the area recognised Render sprinting down the road and gave chase. Although Render scaled several fences and got away from the officers, he was circulated as wanted and arrested on 14 July.
The victim of the April 2014 assault also assisted police, and Render was charged on 15 July. He originally pleaded not guilty, but changed his plea to guilty at court on 10 December.
Detective Constable Talat Taj said: "This was a terrifying ordeal for the two victims. I am glad that Render has been handed significant sentences.
"I hope this strong sentence serves as a reassurance to the public that the police and courts will do everything in their power to bring offenders to justice. We will use every tactic and resource available to relentlessly pursue offenders who blight our communities in this way."
Render was sentenced to five and a half years' imprisonment for GBH and two years' imprisonment for robbery. These sentences are to run consecutively.

December 21st 2015