Red Sea described as being in a 'simply dreadful state'
Two restaurant owners in Southall have been given a suspended prison sentence after a court heard how they ran the business in a manner 'utterly unsafe'.
Mohamud Adam and Abdinasir Ali were (on Tuesday, 3 June) each sentenced to a period of 8 months imprisonment, suspended for 12 months. Both defendants were also sentenced to a twelve-hour curfew for a four month period and ordered to pay a contribution towards legal costs of £1,200.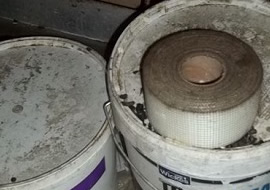 (rat droppings on bucket)
During the sentencing at Isleworth Crown Court, the judge said when the restaurant was inspected by council officers it was found in 'a simply dreadful state', with photos presented to the court showing rat droppings throughout the cooking and public areas, accumulated filth on switches and taps and a filthy food mixer.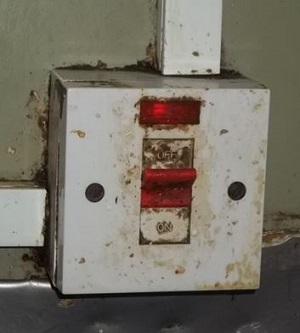 (dirty switch)
The judge told the court it was only because there were no reports of illness to the public that an immediate imprisonment term was not set.
Elsewhere in the borough, Ealing Council has been awarded legal costs of nearly £800 after seeking the emergency closure of the Sakurah Lounge on Coronation Road in Park Royal.
Operating primarily as a shisha lounge that also served food, the property was forced to close after food hygiene officers uncovered evidence of rat and mice infestations throughout the venue.
During an unannounced inspection, officers found mouse faeces on food containers and food contact surfaces and a poor overall standard of cleaning.
The lounge has since re-opened following extensive cleaning and pest control measures.
Councillor Ranjit Dheer, cabinet member for community services and safety said: "People running food businesses take on a heavy responsibility and if that responsibility is shirked, as it was in these cases, the public are put in danger.
"Local residents have every right to expect an appropriate standard is maintained and the council is active in uncovering and prosecuting cases where this standard is not met.
"I hope that the case of the Red Sea restaurant serves as a warning to any businesses putting the public's health in jeopardy that they risk going to prison."
10/06/2014