This distinctive bird of prey has been spotted in our patch
Les Steggles writes:

Sunday 19th February 2012 between 1205 -1215 hrs whilst in back garden in Hanwell I heard the constant squawking of seagull and looked up to see this bird was annoying a RED KITE that was majestically gliding around on the thermals above us.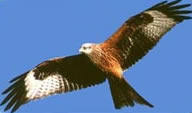 They both finally drifted off westwards towards Hanwell Rail Station, Uxbridge Road and probably over Ealing Hospital.

The Red Kites are out along the M40 but I have never seen one this close to London
Have you spotted any?
21st February 2012