New truck will save more than 500 tonnes from landfill
Related Links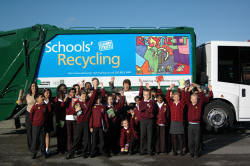 Pupils at Wood End Junior School, in Vernon Rise, Greenford, were the first to see the truck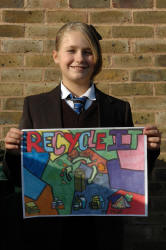 Former pupil Julie Le Jalle,, produced the artwork as part of a competition earlier this year
Participate
Sign up for our free newsletter
Comment on this story on the
Primary schools in Ealing are helping the environment by taking part in a new waste recycling scheme launched this week.
A gleaming and colourful truck was unveiled to pupils at Wood End Junior School, in Greenford, which one student helped to design.
Julie Le Jalle, who has since started at Northolt High, produced the artwork as part of a competition earlier this year. Ealing's recycling contractor May Gurney donated £500 towards equipment for the junior school. Children on the school's council will now decide how best to spend it.
Headteacher, Anne Hayes, said: "The children were very exited to see the new truck, and we are delighted that Julie's artwork is being displayed on it. Our pupils are always very keen to learn about the environment and we are pleased to be part of the council's new recycling scheme. We were delighted to receive the £500 from May Gurney and the
school council is now going to decide how we spend the money."
The truck will be collecting food waste and cardboard for recycling from more than a dozen schools. The new service will save more than 500 tonnes of waste going to landfill.
The schools currently involved are: Allenby Primary Brentside High Castlebar Special School Clifton Primary Costons Primary Durdans Park Primary Edward Betham Primary Greenwood Primary Hobbayne Primary Horsenden Primary Little Ealing Primary Mayfield Primary Montpelier Primary North Ealing Primary Oaklands Primary Tudor Primary Wood End Junior Wood End Infant
More schools are set to join the scheme next year.
November 19, 2009