Local production of play set in Brentford due to open at The Questors
Based on Bill Naughton's 'All in Good Time', Ayub Khan-Din's hilarious adaptation 'Rafta Rafta' features a mainly Asian cast, giving local Asian actors a great opportunity to showcase their talent in the Judi Dench Playhouse at The Questors Theatre in
Ealing.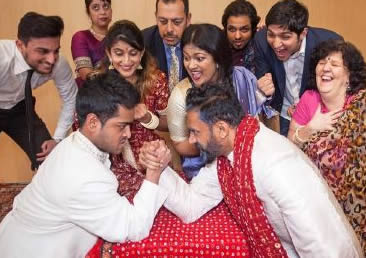 The wedding feast is over and the bridegroom's father is bhangra dancing, but the groom is reluctant to make his way to the bedroom… In fact he's so woefully inhibited by the proximity of his parents and his brother's childish pranks that his beautiful virgin bride (played by Saba Shiraz) remains just that. Six weeks later, the whole family starts to panic. But 'Rafta, rafta…' or 'All in good time'! Rafta, Rafta … premiered in 2007 at the National Theatre, London and starred Bollywood actor Harish Patel alongside Meera Syal.
This amateur production (by arrangement with Nick Hern Books) includes drama, comedy, music and bhangra, and the action has been moved from Bolton to Brentford for extra local
relevance.
Showing a real passion for those all important details, Director Cathy Swift's search for authenticity has lead her in all directions, including the vibrant, diverse, unforgettable Southall. This is where she chanced upon a meeting with the renowned Indian musician Mr Chandravadan Engineer, founder of SVP School of Hindustani Music. CJ, as he likes to be called, has been training the most talented young Indian musicians around the world since 1986.
He joined the team as singing and harmonium coach to actors Rajinder Ladher (playing the over-confident father of the groom, Eeshwar) and Anoop Jagan (playing his downtrodden, newly-wed son Atul).

Performances will be in the 350-seat Judi Dench Playhouse at the Questors Theatre in Ealing
from Thursday 10th May - Saturday 12th May 2018 at 19:45.

Tickets will be available from www.questors.org.uk. Box Office: 020 8567 5184
Tickets go on sale in April
21 March 2018