CCTV images released after incident in Northolt
Police say on Monday 18 November 2013 at 08:30hrs near 48 Church Road, Northolt, a 35-year-old Asian man was racially abused, assaulted and pushed to the floor causing cuts to his knees.
The suspect is described as a 6ft white man in his mid twenties.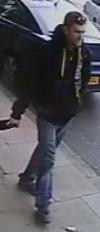 Police are appealing for any witnesses who may have seen this incident.
Anyone with information about this incident is asked to call police on 101 quoting ref. 2528966/13. Alternatively call Crimestoppers anonymously on 0800 555 111.

9th January 2014