Celebrating its fiftieth anniversary now to be called 'Judi Dench Playhouse'
Ealing's local theatre - The Questors - is celebrating its 50th anniversary and has announced the landmark building will be renamed after the President, Dame Judi Dench.
The actress says she is delighted to celebrate the anniversary by agreeing to The Playhouse being renamed the 'Judi Dench Playhouse'.
Dame Judi, will have been President of The Questors for 30 years next year , said :
"The Questors' theatre building is a landmark of theatre architecture, built by this remarkable company. I send congratulations to you all for the Golden Jubilee celebrations and on the continued success of the company. I am absolutely thrilled and very flattered to add my name in celebration of this achievement, and I have very fond memories of the recitals that Michael and I were invited to perform there."
The Questors is one of the UK's largest non-professional theatre companies, founded in 1929.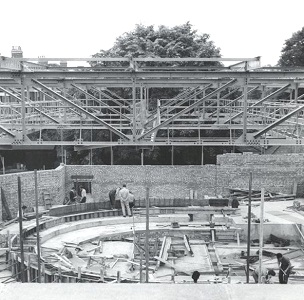 The Playhouse during construction 1963 (© The Questors)
The Playhouse at The Questors Theatre opened in 1964 with a production of Ibsen's Brand in the presence of HM Queen Elizabeth the Queen Mother.
The theatre building is regarded as the first purpose-built theatre to be designed in Britain after the Second World War. It put into practice innovative ideas for staging with which The Questors had been experimenting. The Playhouse set a new benchmark for flexible staging by adventurously breaking the old 'picture frame' theatre format with a bold amphitheatre shape. The project was acclaimed by Alec Guinness at the time as "the most exciting theatrical venture to be launched in this country". Over 600 productions have since been staged in the Playhouse which, depending on configuration, seats between 300 and 400.
Richard Mead, Chairman of The Questors said today: "We're deeply honoured that Dame Judi has agreed to allow us to rename the Playhouse on its 50th anniversary. Dame Judi has always striven for excellence in her career, as do we at The Questors."
There will be a gala celebration on Saturday 18 October to mark the anniversary year and to inaugurate its new name.
Michael Langridge, who is directing the celebration, and was in the opening production of Brand, said today:
"The gala evening on 18 October will feature scenes from memorable Questors productions over the last 50 years, and feature a number of writers with strong associations with the company. These include Peter Whelan, a long-standing member of our theatre who sadly died earlier this year, Michael Green, the well-known humourist behind 'Coarse Acting', and James Saunders, who premiered Next Time I'll Sing to You at The Questors Theatre."
Amongst other highlights will be a scene from Rosencrantz and Guildenstern are Dead by Tom Stoppard. As a young man Stoppard directed an early version of this play with The Questors in 1964, when it was still in development.
Tickets for the gala evening are priced at £20 and are available from questors.org.uk.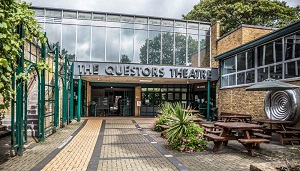 Exterior of The Questors Theatre 2014 © Robert Vass
30th September 2014