Grand old lady has been serving the community for 90 years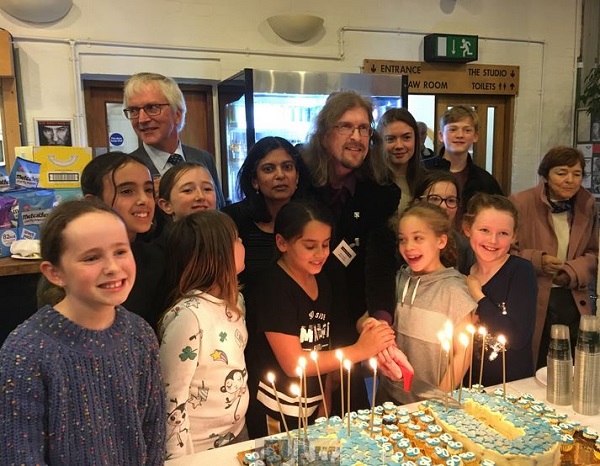 Ealing's Questors Theatre has marked a special day with 90th anniversary celebrations.
From its early beginnings in September 1929, Questors Theatre has established itself as a highly esteemed artistic venue producing consitently high quality productions.
It's an amateur theatre where everyone; set designers, props team, lighting, visuals and actors volunteers. Now standing as one of the largest community theatres in Europe, this celebrated local venue has put on a variety of shows, courses and workshops throughout this year to celebrate its 90th.
Among those enjoying the festivities was Labour's parliamentary candidate for Ealing Central and Acton, Rupa Huq. She told the assembled throng how her sister, TV's Konnie Huq, had learned her craft there in the 1990s, leading her to later present "Blue Peter", and how her own teenage son was similarly a graduate of QYT, Questors Youth Theatre programme.
Rupa added, "Many people would say that doing a maiden speech, or being a shadow minister, or having an audience with the PM at Number 10 might be the highlights of an MP's career, but for me it was treading the boards at Questors when we did a "Stand Up for Labour" show there that saw me performing to a packed out Judi Dench playhouse."
She praised the recent production of 1984 as "extremely powerful", commenting "fake news and thought police are all scarily relevant to the contemporary day and age."
''What with the evils of totalitarian societies portrayed in 1984 and the upcoming redistribution-themed "Robin Hood" I did wonder if Questors had a secret lefty agenda but I won't Labour the point"
A spokesperson for Questors commented: "We were thrilled to host our 90th Anniversary Gala at our theatre, during the run of our production of 1984. For this special evening, we welcomed in the wonderfully diverse community who have come through our doors over the years – from students to actors, designers to audiences – all of who make up our vibrant and thriving theatre what it is."
A full list of coming attractions including the panto can found at: www.questors.org.uk/whatson
Ealing Central and Acton Parliamentary Candidates

Julian Galliant ( Conservative)
Dr Kate Crossland ( Green)
Sonul Badiani ( Liberal Democrat)
Zara Siddique ( Renew)
Samir Alsoodani ( The Brexit Party)i

November 19 2019