Questors production of Alice Through the Looking Glass
Ealing's young actors are celebrating another theatrical achievement.
Next Thursday, the curtain goes up on the Questors Youth Theatre production of Lewis Carroll's fantasy Alice Through the Looking Glass.
It marks the 20th anniversary of QYT. In 1991, a production of Gregory's Girl became the very first youth production to be staged at the Mattock Lane theatre (see below).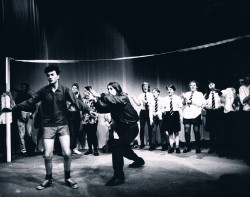 The two decades since have seen hundreds of young actors treading the boards in a variety of productions ranging from Greek tragedy and Shakespeare, to musicals and Terry Pratchett.
For the performers, it has inspired a lasting love of the theatre. Many are still involved with The Questors Theatre today. Some have gone on to careers in the professional theatre.

Currently, there are 500 members of QYT, ranging in ge from seven to seventeen. In some age groups, there are waiting lists.
The director of QYT, Alex Marker, has been involved in virtually every show over the past 20 years, and says the company has become part of the lifeblood of the local community.
"It means so much to the kids to be part of this theatre," he says.
"They not only learn about the process of acting, they get to put on performances in a real theatre. For me, this is where my love of drama started, and it has led to an exciting career as a set and costume designer. I want other young people to have the opportunity to experience the excitement of being part of a big production."
The competition for parts in the anniversary production of Alice was intense. Ninety young actors auditioned, and 34 were finally chosen. They have spent the last six weeks rehearsing Carroll's madcap adventure under the direction of Rachel Heyburn, a guest director from the professional theatre who has worked in the West End.
'I wanted to do something a bit special this year," says Alex. "I wanted to top what we had done in previous years, so I decided to do a big production, a classic fantasy drama that all the family can enjoy."
This musical staging of Lewis Carroll's classic tale includes familiar characters such as Tweedledum and Tweedledee, Humpty-Dumpty, and the Hatter and the Hare. It has been adapted for the theatre by Benjamin Till.
Amongst the enthusiastic young cast is 12-year-old Balam Gomez Baker, who is playing the White King.
"This is different from working on smaller productions," he says.
"You get treated more like an adult, and it gives you a better understanding of how a performance works."

Alice Through the Looking Glass is being performed at The Questors Theatre from March 31 – 2nd April.

22 March 2011