Don't bin your yoghurt waste - take it to church
Related Links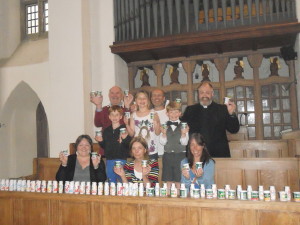 Back row: Noel Chardon, Daniel Mason and Father Robert Chapman
Middle row: Edward Mason, Celia Mason and Alexander Chapman
Front row: Sophie Schull-Brewer, Pauline Britton and Chloe Mason
Participate
Sign up for our free newsletter
Comment on this story on the
St Thomas's Church in Hanwell is on a mission to help reduce landfill waste by participating in a competition to collect yoghurt containers.
As well as attempting to become Top of the Pots, the church earns two TerraCycle points for the weight of each Danone Activia®, Actimel® and Shape® yogurt pot and bottle sent in. Each point can be redeemed for a 1 pence contribution which the church is using towards its Church Organ Appeal to restore its three manual Walker organ.
TerraCycle recycles the waste pots into a wide range of recycled generic plastic products such as garden benches, watering cans or waste bins.
At the end of the competition, the five top collectors will win contributions of £200, £100, £50, £25 or £10 to their chosen school, charity or non-profit organisation.
Pauline Britton from St Thomas' set up the collection programme and says since April more than a thousand yogurt pots and bottles have been collected - they want more.
She says: "We ask that local people in Hanwell and Ealing help us in our attempts to win the Top of the Pots Collection Contest whilst helping the local environment by saving as many of these yogurt pots and bottles from local landfill as possible.
''Simply drop off your empty Activia, Actimel and Shape containers and also Kenco Eco Refill packs, Tassimo coffee machine T-DISCS and any brand of biscuit wrapper to the front porch of St Thomas's Church on the Boston Road in Hanwell during the hours of 8 am to 5.30 pm and we will happily send them in as part of our collections.''
7th August 2012