Consultation closes on June 11th
Ealing's main post office could be moved to WHSmith in an effort to ''safeguard services'.
Post Office Limited want to relocate from the High Street to the Broadway store following a six week public consultation period.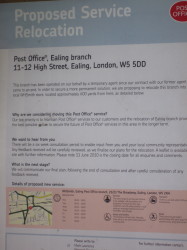 They say there will be improved facilities at the new branch: a brighter more modern environment; extended opening hours daily; and level access into the premises.
82 Post Offices have been relocated to WHSmith stores over the past four years.
Customers are being encouraged to write in with their views and comments regarding the opening hours, access and services.
A Post Office spokesperson said:
"Our priority is to safeguard Post Office services to the local community in the longer term. The relocation will extend our existing partnership with WHSmith, who will incorporate Post Office services into the local WHSmith store in the town centre."
WH Smith Area Manager, Lee James, said: "We are looking forward to working in partnership with Post Office Ltd to provide Post Office services for the local community and to bringing an improved service to Ealing."
The deadline for comments is June 11 and a a decision to move the Post Office 600 yards North, will be taken within three months.
Comments should be sent to: Post Office Limited, c/o National Consultation Team, PO Box 2060, Watford, WD18 8ZW or email consultation@postoffice.co.uk.
For more information, call 08457 22 33 44, textphone 08457 22 33 55 or visit www.postoffice.co.uk
What do you think of these plans? Discuss on the forum
May 12, 2010