Traders pay rent for a section of the store
Related Links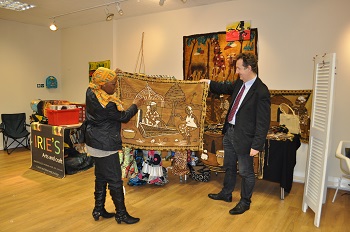 Ealing Pop Up Shop trader, Grace Roberts, shows Councillor Julian Bell some of her products.
Participate
Sign up for our free newsletter
Comment on this story on the
A new innovative shop funded as part of the government's riot recovery programme has 'popped up' in West Ealing.
The shop, at 99 Broadway W13 9BP, sells quality goods from a group of local traders and is open from 9am-5.30pm, Monday to Saturday.
Each trader has paid £25 a week and a £100 refundable deposit for a 12 square metre section of the store. The local business community chose the four businesses to trade in the shop.
Shoppers will be able to buy Fiona Daly's handmade cushions, throws, crochet items, candles and baby clothes, as well as Chanel Rapallini's women's clothing which are handmade, using natural materials.
Grace Roberts is selling handmade crafts and jewellery from West Africa, as well as vinyl records and David Noel is selling canvas and print art inspired by African and Caribbean cultures.
From Monday, 23 December Magdalena Konon will be doing live demonstrations in the shop, showing people how to make tailored moccasin shoes for adults and children.
Councillor Julian Bell, leader of Ealing Council, visited the shop on its first day and said:
"A visit to the Ealing Pop Up Shop is a great opportunity for shoppers to buy quality Christmas gifts and support local traders.
''I'm delighted that we're able to help support small businesses by giving them the chance to trade in a retail space and that in turn those traders are bringing something new to the high street shopping experience."
The pop-up shop project is part of a programme delivered by Ealing Council to regenerate Ealing's high streets. The programme is funded by the government's High Street Innovation and Riot Recovery Fund.
16th December 2013