Locals say goodbye Poisson ...and thanks for all the fish
It opened five years ago but now the popular fishmongers 'Poisson' on Northfields Avenue has closed its doors for good.
Simon and Katie Osborne - who'd previously worked in the media - opened the store in December 2009 and it rapidly became a favourite with locals.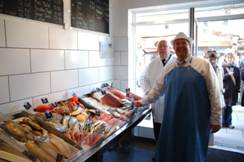 Today they confirmed local rumours and posted on the Northfield Facebook site:
'' It is with great sadness and regret that we confirm the rumours that Poisson Fishmongers has closed and will no longer be trading on Northfield Avenue. Simon and Katie would like to thank all their customers for their loyal support over the last five years.''
We have requested further details about the reason for the closure.
5th January 2015