Gordon Brown tells Labour that UK's migration rules to be tightened
Participate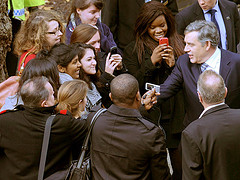 Photo - Downing Street photostream
Comment on this story on the
Gordon Brown was in Ealing yesterday - amid predictions that the UK's population is set to reach 70 million - to announce changes to immigration policy.
The Prime Minister told a conference of Labour supporters that the number of professions which can recruit from outside Europe would be reduced.
He said said net migration was already being cut and that these changes would ensure this continues while maintaining "flexibility".
He also promised to make it harder for illegal workers to enter the UK by obtaining student visas.
Councillor Julian Bell, Labour group leader in Ealing said:
"Gordon Brown gave a factual and well balanced speech tackling the controversial issue of immigration head on. He showed that the Labour government recognises the contribution migrants make to Britain and the economy but also the need for strong borders and for migrants to pay for extra public services, learn English, obey the law and respect the British way of life."
The Conservatives dismissed Mr Brown's proposals as "hollow".
November 13th, 2009