Pub on Northfields Avenue was scene of disturbance earlier this afternoon
An incident at The Plough Inn on Northfields Avenue in which police say a man armed with a knife barricaded himself into staff accommodation is now over.
It happened around 14:50hrs Thursday, 23 October at the pub in W5.
Police negotiators were called to the scene and the area - which is very close to Mount Carmel and Little Ealing primary schools was cordoned off whilst officers dealt with the situation.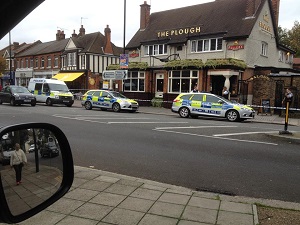 photo courtesy Lee Darbon
Police say they gained entry at approximately 17:35hrs - the man was arrested and taken to hospital by London Ambulance Service.
Nobody else is believed to have been involved.
This morning (24/10) a spokesperson from Fuller's said: '' I can confirm the pub is now open following an incident involving one member of staff.''
October 24th 2014