Opponents want him to veto Elthorne Works scheme on Trumpers Way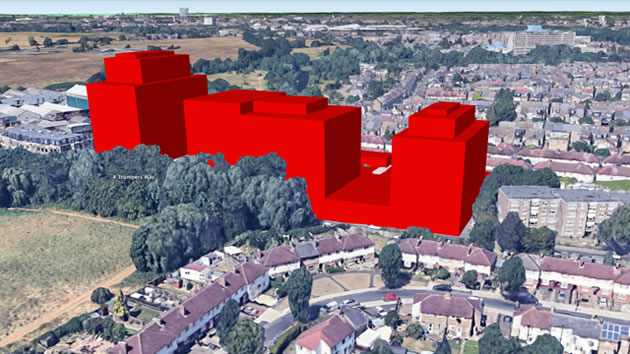 CGI showing the potential massing of the building in Hanwell
A petition has been started addressed to the Mayor asking him to block a large property development in Hanwell.
Opponents of the mixed use scheme at Elthorne Works on Trumpers Way say that the new buildings which could be as high as 14 storeys represent an over development for the area.
Last week (15 January) Ealing Council's planning committee granted permission to MHA Bellward (Hanwell) Ltd for the scheme which will include 205 flats and 8 houses as well as over 2,000 sq m of commercial space. Much of the residential portion will be on a podium which will include light industrial units at ground floor level. There will be three residential blocks which the developer say will be between 8 and 12 storeys. There will be a basement car park with 84 spaces as well as cycle parking and bin stores.
On a room basis 35% of the proposed development will be classed as affordable with the rest being provided to the private rent market. Of the affordable habitable rooms, 145 (70%) will be shared ownership and 63 (30%) will be affordable rent. All affordable units will be located in Blocks B and C.
Sadiq Khan has two weeks to review the approval by Ealing Council and can choose to 'call in' the scheme.
The sponsors of the petition say, "The homes to be built barely meet any minimum requirements for space, affordability and light.
"We care deeply about the effect this will have on not only the existing neighbours but the future tenants of these dwellings. We should not be accepting sub-standard building designs that have no consideration for the environment or the families that will be living in them."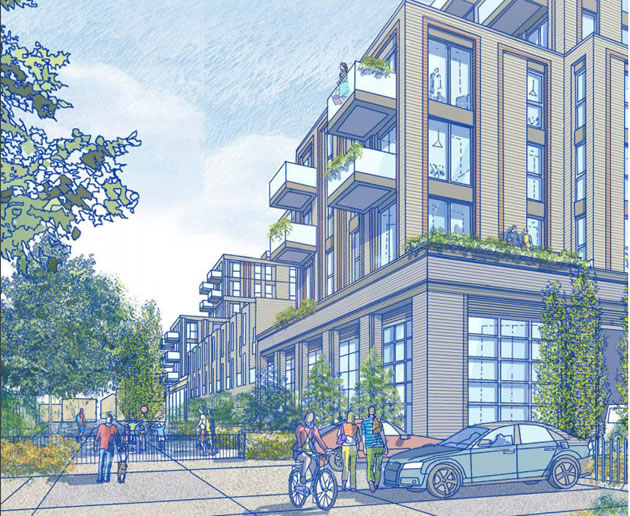 CGI of the scheme from the developer's application
They say that the statistics supplier by the develop have been manipulated and are misleading. The tallest block in the building will actually be 13-14 storeys high because the developer has not included the podium of commercial space in their description. This would make the smallest block of the three 1-11 storeys high. In the immediate area no building is higher than 3 storeys and it is claimed that the towers will be massively out of place.
Other points made in opposition include the loss of light for residents nearby and the lack of public green space as well as the lack of provision for families in the development. It is pointed out that the road access for the new development is by a single road - Trumpers Way which is already a busy due to traffic from the industrial estates behind it.
They also say that the consultation process did not include locals who will be directly affected by the towers. No contact was made with the local press to raise awareness of the development with local residents.
More details of the application can be found on the Ealing Planning Portal.
January 21, 2020