Thousands enjoy local Fayre
On Saturday 5th December, the Pitshanger Community Association (PCA) hosted its annual Christmas street event with a difference.
Renamed the Pitshanger Christmas Fayre instead of Light up the Lane, a more traditional alternative to the usual event was arranged as the culmination of Pitshanger Lane's centenary celebrations this year. Instead of costly fireworks, big stages and bands, a more community-focused event based around a Christmas market was organised.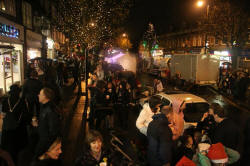 Refusing to let the rain dampen their evening, there were high spirits and plenty of festive cheer among 3,000 local residents who came out to enjoy the evening and celebrate the lights in Pitshanger Lane.
Joined by MP Steve Pound and Mayor of Ealing, Councillor Barbara Yerolemou, the PCA presented a cheque for £2,000 to Helen Ryan of the Meadow House Hospice for which the PCA has been fundraising.
As well as socialising and strolling under the twinkling tree lights, visitors to the event had an opportunity to stock up on Christmas gifts from the many Pitshanger Lane businesses which stayed open late, plus local craftspeople and charities in the street market.
Food and drink was provided by the Kent pub's hog roast and PCA BBQ (cooked as always with help from Ealing's Councillors Greg Stafford, Nigel Sumner and Ian Gibb) as well as a whole host of wonderful treats and traditional Christmas goodies from the Lane's cafes and restaurants.
Other attractions included Peter's Puppet Theatre, a magician, the Hanwell & Ealing Operatic Society's mobile pantomime of Jack & The Beanstalk plus a strolling Santa.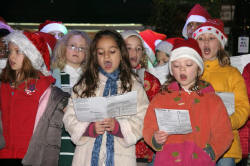 For many though, the highlight of the evening was the stage show which took centre place in the Lane. With performances of carols and Christmas songs by North Ealing and Montpelier school choirs and Ealing Rock Choir plus dance groups, the biggest screams if the night were reserved for the first ever live appearance of teenage rock group Height Order.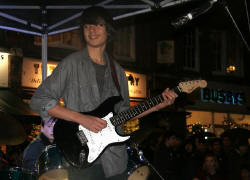 Nikolas Babic
A fitting end to Pitshanger's 100th year, the Pitshanger Christmas Fayre was declared to be such a success that it will definitely be repeated in 2010. And with a bit of seasonal goodwill, the PCA hopes that it will continue to be enjoyed for the next 100!

December 9th, 2009