It's a GB High Street Comp winner
Traders and locals are celebrating today the news that Pitshanger Lane is THE best High Street in London.
The Lane was up against Raynes Park High Street in Merton and Roman Road in Tower Hamlets in the Great British High Street competition.
The Great British High Street 'supports those working to revive, adapt and diversify high streets'.
It's a Not for profit organisation - funded by the government and aims to help regenerate high streets across the country as well as recognise and celebrate successful ones like Pitshanger.
The Judges visited Pitshanger Lane earlier this month and met both traders and shoppers and were highly impressed with what they saw.
They said: '' After a truly impressive campaign to galvanise the local vote, Pitshanger is the deserving winner of the London category. With its great community spirit, social media campaign and a commitment to supporting local retailers, Pitshanger delighted our judges.''
John Martin, Chairman of Pitshanger Village Traders' Association and owner of John Martin Estates and his wife Rhian have been at the helm - working with the traders and guiding the local community to vote.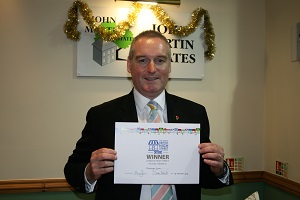 (John Martin proudly shows off certificate )
Mr Martin said: '' The traders of Pitshanger Lane are delighted to be named best High Street in London. It is an accolade long overdue after the battles of recent years when our unique and independent character has been threatened. Once again, though, we must thank everyone who has played their part in tweeting, posting and voting daily – we couldn't have done it without them. I am particularly pleased, however, that the judges recognised our campaigning to galvanise the community and further afield as well as our social media efforts – it is testament to the hard work that has gone into this competition.''
50% of the overall mark was down to the judges and the other 50% came from the public.
Ealing's Council Leader Julian Bell said: '' Congratulations to all the traders in Pitshanger Lane. This is a huge achievement and they should feel very proud of themselves.
"Pitshanger Lane is a great place to visit with a wonderful range of independent shops and small businesses whether you want to buy a book, meet for a coffee or you are planning to do some DIY at home. I was delighted to support the traders' efforts in this competition and I am sure that shoppers from across London will come to see for themselves what makes Pitshanger Lane so special.''
Cllr Greg Stafford, Conservative Opposition Leader, said, "This was a superb victory for Pitshanger Lane. Pitshanger is the true jewel in Ealing's crown and rightly deserved the accolade of "Best High Street" in the capital. I want to congratulate and thank all those traders, shoppers and local residents who have worked so hard to achieve this win and to make Pitshanger Lane a special place to live and shop."
Last night thousands turned out to enjoy the annual 'Light up the Lane' - a celebration of shopping, socialising, song and dance started by the traders several years ago to mark the official start of the Christmas season.
Congratulations to Pitshanger Lane!
30th November 2015