Just a week left to help win GB High Street Comp
Judges from the Great British High Street competition have visited Pitshanger Lane and there's just another week to help out.
The Lane is up against Raynes Park High Street in Merton and Roman Road in Tower Hamlets and the public can continue to vote on the Great British High Street website once a day up until the deadline of Friday, 13 November.
Last week the judges were accompanied throughout their visit by John Martin , Chairman of Pitshanger Village Traders' Association and owner of John Martin Estates.
To mark the estate agents' 20th birthday Mr Martin bought a G5 defibrillator for Pitshanger which has been placed outside their office. It is set to a mode which talks anyone through the required process so even if someone is not trained they can help save a life.

Mr Martin said: ''If one life is saved by this device, its purpose and our aim will have been fulfilled.''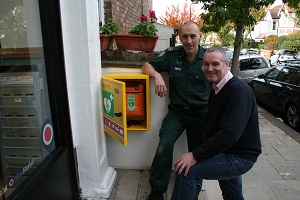 (Tim Chivers from LAS with John Martin
image courtesy Rhian Aubrey-Martin)
As well as meeting traders the GB High Street judges chatted to residents who were shopping or having lunch on the Lane, and were greeted by the Mayor and Julian Bell, the leader of the Council.
Traders wore #Pitshanger t-shirts which had been designed and produced especially for the day.
The judges views will count as 50% of the overall mark whilst the other 50% comes from the public vote.
Last Friday, after 4 weeks of daily voting by the community using all of their available email addresses, Pitshanger Lane was still in first place.
Mr Martin says, "The traders can only thank the community for their support so far but it is now as important as ever that everyone keeps voting on a daily basis until 13th November to see the Pitshanger traders remain in top spot – where we belong - in the public vote." The final result will be announced at end November/beginning December.
Voting continues until 13th November at thegreatbritishhighstreet.co.uk/finalist-london
5th November 2015