Latest of the borough's facilities to be managed by volunteers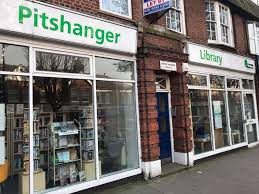 It's been announced that Pitshanger Library has been given 'community library status' and will be run by local volunteers.
It's the fifth library previously managed by the Council which will now be looked after by residents and local groups. Hanwell, Northfields, Perivale and West Ealing are the others.
Pitshanger, along with the other four libraries, is temporarily closed to facilitate the transfer and it's expected it will reopen in early summer.
Councilor Jasbir Anand, the council's cabinet member for business and community services, said: "It is fantastic news that Friends of Pitshanger Library are now confirmed as community managers of the library – so I would like to thank them for working with us.
"This positive news means that every library will remain open and continue to be available for the public to use. We know how important libraries are to our local communities. But with a 64% cut in our funding from central government, meaning we get 36p from every £1 we used to receive in 2010, we had to consider alternatives and we are delighted that these have worked out positively for residents."
John Martin, trustee of Friends of Pitshanger Library said: "We consider Pitshanger Library to be a hub within a hub, situated as it is on Pitshanger Lane, and that is why we believed it so important to keep it open on its current site. Myself and fellow trustees are delighted that we have been able to work with the Council to achieve this for the community. We now look forward to working with the many volunteers and local residents to create a library to be proud of and are really excited about the planned refurbishment and turning ideas into reality."
The decision to seek community partners for five of the boroughs 13 libraries, was made by Ealing Council in July 2019 following a 12-week public consultation earlier this year.
Local people and library users were invited to consider proposals to keep six of the council's 13 libraries under council management, with the remaining seven becoming community managed or facing closure. They were also asked about changes to opening hours.
1,700 people responded via online and paper surveys. In addition, 366 people attended seven consultation events and three drop-in sessions held over the 12-week period.
The council also carried out a representative survey of 800 Ealing residents.
Greenford and Wood End libraries will also move to being supported by the local communities, meaning that there will still be council staff at these libraries, but with local volunteers helping with some running of services.
February 25, 2020