Comedian Phil Zimmerman recounts his controversial audition for Britain's Got Talent
Related Links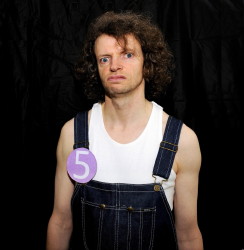 Phil Zimmerman as he appeared in Never Mind The Buzzcocks
Comedy Downstairs at the Drayton, Friday january 21
Six Foot Giant Pigeon Phil Zimmerman, Plus Scott Capurro, Steve Best and MC Paul T Eyres. Tickets £9.00 fromwww.wegottickets.com.
Doors 8.15pm/show9pm.
Participate
Sign up for our free newsletter
Comment on this story on the
So, I'm a 6 foot giant pigeon, according to last Friday's Sun. My, how I've grown. By this time next week I could be a ten foot ostrich. Then what? An super soaraway eagle perhaps. The world is my oyster. I could fly to sunnier climes without the need of an airline ticket. It's fun being a Pigeon. You can get away with murder. You can bomb people you don't like from a great height and by the time they look up to see what's going on you're up, up and far and away.
Anyway it was quite a landmark in my career to make it onto page three of the Sun next to a fake blonde beauty, under the never-to-be-forgotten headline, "Six foot pigeon attacks Amanda."
Shame the defamatory story isn't actually true, but hey, when has that ever bothered the Sun? Suffice it to say that legal proceedings are under way...
You may be wondering what a man of my calibre and integrity was doing on Britain's Got Talent. Hmm, fair question. Well, I would like to dedicate it to the wonderful, late Godfather of alternative comedy and creator of outrageous stunts, Malcolm Hardee.
Malcolm was considered to be to comedy what John Peel was to music. He would often put my mad pigeon act on at his legendary Up The Creek club in Greenwich, and said it was his "favourite." One night after witnessing the act which had received a fair bit of heckling from a riotous boozed -up audience, he said, and I quote: "I think you're a genius." Omid Djalili said the same thing about me in Time Out and repeated it on stage when he played the Drayton in 2008. So there you are, it's official...
So dedicating the act to Malcolm, I think of it as a kind of kamikaze comedy protest against the BGT gestapo, and the sick culture that worships fame, mediocrity, the superficial and MONEY, above all other things.
People are seen as commodities to be manipulated and used for profit... the Gestapo keep the contestants in a stuffy room for up to nine hours, like prisoners of war, only with fewer privileges. The prisoner is given no refreshments and is subjected to constant interrogation in front of TV cameras while trying to prepare for a performance that could potentially be seen by millions. It's a set-up designed to encourage inexperienced, and at times delusional and vulnerable people to screw up for the entertainment of the masses. Not nice.
"So what is pigeonman," I was constantly asked during yet another interview. "It's comedy. Largely pigeon-based," I replied. "But what is it exactly? How would you define Pigeonman?" comes the question for the umpteenth time. "I wouldn't define it, I reply, because as soon as you define something you limit it.....It's pigeon stuff, it contains pigeon...?"
But it was no good, the pigeon message just wasn't getting through...
So anyway, I thought it would be fun to dive bomb my way in there and shake them up a bit. The tabloid media chimpanzees loved it. Never mind about people dying due to the lies greed and hypocrisy of criminals in government and big business, look at that bloke.... He's frightened Amanda Holden.

Apparently according to one media report, my performance was so off-the wall, that you wouldn't even witness anything like it at the Edinburgh Fringe. Hmm, Don't bet too much on that one pal, I've performed there quite a few times already and I may well be up there come August...

Was I bothered whether the judges or the audience got it or not? Nope. In fact I told ITV 2's Stephen Mulhern in an interview beforehand that my aim was to get three no's from the judges. And I succeeded magnificently in this transcendent act of comedy revolution.
So, down with this hysteria! Why should anyone crave approval from the likes of Simon Cowell, Louis Walsh and Amanda Holden? Who are these people, these so-called judges? Do they have some special power or quality that renders it unnecessary for them to visit the lavatory, or do they just have very expensive teeth and hair?
However, I must say I was glad that Louis was a guest judge on the panel as it was priceless seeing the gormless look on his face as I prowled the stage. He sat there with his mouth wide open like a constipated baboon or as if he'd just had an unwelcome visitor from behind bearing a sharp implement.

But let me set the record straight. I was not buzzed off by all three judges. (A slight disappointment I must say, as I love that deafening honking noise, almost pigeonesque in its madness. And by pigeonesque I refer to the sound of pigeons at it in the attic, not to be confused with the very different sound of afternoon cooing in the street or at dusk under bridges).
Michael McIntyre, a stand-up comedian like myself, sat there smiling throughout, which might suggest he found it vaguely amusing. He did not buzz, but finally seemed to be bullied by the lovely Amanda into uttering the immortal words: "It's a no...it's a no."
Ok ok, we hear you, don't panic Michael, you're still welcome to play the Drayton any time. You can do the opening 20 for a door split. (a comic's joke there)..

So now to other inaccuracies contained in the Sun and various other online reports : I did not "lunge at" or "attack" Amanda Holden, The Pregnant .
All I did to her was a quick burst of my Wolfman character when she buzzed me. Of course this was terrifying for Amanda and will probably scar her for life. Or maybe not, as the only quote from her was one saying it had been the best day ever for BGT in London. The only information about her response to the giant pigeon, ie, she was 'terrified" was courtesy of 'an insider'. In other words the reporter just made up the quote.
Another untruth was that I "leapt from the stage" (surely 'fly' would have been a more imaginative word?); and was not "grabbed" or "removed" by security.

Firstly, as I had injured my ankle a few days before the performance, I had to get down from the stage with care which I did simply in order to hand McIntyre a flyer for The No5 Club, Downstairs at the Drayton in Ealing, incidentally the best comedy club in London, having already invited him to perform there, in the earlier 'chat' with the judges.
As I got on to the floor I was approached by three extremely ugly, burly henchmen, who barred my way. Now, if I was "nuts", as has been suggested, I would surely not been deterred by this. But as I am dangerously sane, I simply turned round and got back onto the stage, having flicked, not "hurled" my flyer at McIntyre. How does one hurl an A5 flyer by the way? I would like to know so I can perfect the technique for future promotional purposes.
Anyway, the famous comedian duly received the flyer from a member of the by-now-hysterical-with-desire-for-some-kind-of-excitement-audience, as I offered a few more revolutionary pigeonesque gestures and walked off the stage. What fun!
Just a final note on the subject of sanity/insanity. It's worth noting that the company that performers are contracted to for this ghastly show is called Syco....
Phil Zimmerman

See Phil Zimmerman's controversial act , including a re-staging of the Holden incident as you might have wanted it to happen, Downstairs at the Dayton next Friday, Jan 21st,plus the brilliant Scott Capurro and Steve Best. Tickets fromwww.wegottickets.com
Comedy Downstairs at the Drayton, Friday january 21
Six Foot Giant Pigeon Phil Zimmerman, Plus Scott Capurro, Steve Best and MC Paul T Eyres. Tickets £9.00 fromwww.wegottickets.com.
Doors 8.15pm/show9pm.
13 January 2011