As the countdown to new weekend night service begins
An Ealing MP has joined criticism following major problems for commuters on the Piccadilly line.
Ealing Southall MP, Virendra Sharma, has written to the Mayor of London, Sadiq Khan and the Transport for London Commissioner, Mike Brown, to request reassurances that there will not be a repeat of the disastrous Piccadilly Line meltdown.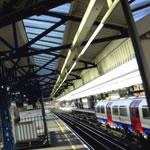 There have been problems on the line for the last fortnight after around half the line's trains - 37 out of a total of 68 - were taken out of service due to "wet leaves on the track"
Transport for London says that wheels on trains serving the Underground's fourth busiest line have been damaged as a result of slippery rails.
The Piccadilly line is due to start a weekend night service on 16th December.
In his letter, Mr Sharma said, ''Rolling stock on the Piccadilly Line is outdated and the service disruptions all too regular. Millions across London rely on the Piccadilly Line to get them to work and home again, along with thousands in my constituency of Ealing, Southall. They are currently being let down by a programme of maintenance which has failed to keep up with winter pressures."
''I hope that you will as Chair of TfL put together a team to look at the smooth running of the Piccadilly Line, serving millions across the capital, so that I can reassure my constituents that their concerns are being taken seriously.''
The RMT rail union has called for the Piccadilly line to be temporarily shut down and the Night Tube launch delayed as the chaos continues.
5 December 2016