Have you lost your Pretty Polly?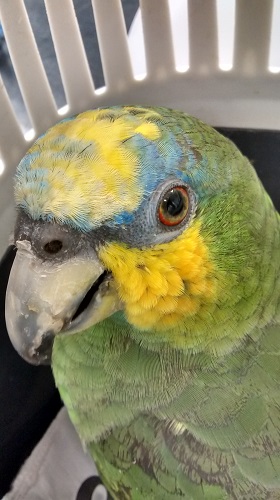 Whilst parakeets are not unusual to see in the skies and trees around Ealing, an Amazon Parrot is a little more unique.
But this extremely friendly bird startled a man from Perivale when he landed on his shoulder in his garden!
The man and his friend were enjoying the wonderful weather on Saturday (21 April) when the colourful parrot surprised them both. The bird appeared so tame they suspected that he or she was someone's stray pet, but no-one they knew was missing one. They gently brought the parrot inside to the safety of the house and called the RSPCA for help.
RSPCA Animal Collection Officer (ACO) Jill Sanders said: "This parrot's really handsome and very friendly, so we're pretty sure he or she is someone's pet.
"We do get a lot of calls about stray parrots in the warmer months due to accidental escape, which can happen when owners take their birds outside on a perch or hand, or let their birds fly around the house but forget to close their windows or doors first.
"Unfortunately, the parrot wasn't microchipped so can't be identified, and we do not yet know whether it's a male or female without a DNA test. But I'm sure someone must be missing this lovely bird, so if you know anything please do contact our appeals line on 0300 123 8018."
The parrot is now being cared for at the RSPCA Putney Animal Hospital.
In 2017, 1,439 psittacines - birds that belong to the parrot family including macaws and parakeets - were collected by the RSPCA in England and Wales. 453 of these were strays. Many can't be returned as they are not microchipped or ringed.
The RSPCA urges people to take steps to make sure their pet bird can be positively identified, with a microchip or closed ring. The charity advocates the use of a parrot passport, which will facilitate identification of a bird, should it ever be lost and found. The passport also contains advice for new owners to help keep their birds safe and secure. It is recommended reporting any lost, found or stolen pet birds to the National Theft Register.
The RSPCA recommends that captive birds are housed in an aviary where possible but, if kept in a cage, it is essential that bird owners allow opportunity for free flight daily by providing time outside the cage to carry out this natural behaviour. Anyone letting a parrot have free flight within a house should ensure windows and doors are secured first, to prevent accidental escape.
Anyone interested in rehoming a rescued bird from the RSPCA can visit their web site for more information.
April 25th 2018