Council intervenes and demolishes Southall outhouse
Two landlords who illegally rented out dangerous and unhygienic properties in Southall have been taken to court and found guilty.
Ahdil Saddiq, also known as Mohammed Jameel Choudhry and Jameel M Choudhry, was prosecuted for failing to comply with a Prohibition Order and Demolition Order served by the HMO (houses of multiple occupation) at the rear of 5 Heathway, The Common, Southall.
In 2012 inspectors found the outhouse was mouldy, damp and cold with numerous electrical and fire safety hazards.
A prohibition order was issued in October 2012 forbidding anyone to live or sleep there. However, subsequent inspections found that the landlord was ignoring the order and that it was still occupied.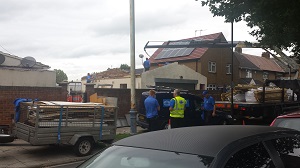 In January 2014, the council served a demolition order requiring the outhouse to be torn down. However, when Mr Saddiq also ignored this the council stepped in and demolished the outhouse. Mr Saddiq must now pay the council's demolition costs of approximately £18,000 or a charge will be placed against the property.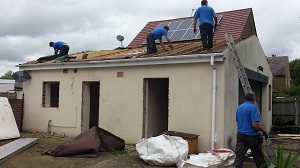 On Thursday, 7 January, Mr Saddiq appeared in Ealing Magistrates Court and was found guilty of six charges relating to his failure to comply with the prohibition and demolition orders. He was found guilty of all six charges and now must pay a £560 fine and the council's legal costs of £2,616, as well as the demolition costs.
In a second case, Mr Jasjeet Singh Punny was prosecuted for failing to comply with an improvement notice on his property at 12 Oakleigh Court, Southall.
Mr Punny was renting the property to a mother and her young, asthmatic child, but when officers inspected the property they found the walls covered with mould, a large sliding door not fixed to the wall so at risk of falling, and kitchen cabinets also not secured properly to the wall.
The council issued an improvement notice in September 2014 ordering him to make improvements, but he ignored all attempts by the officers to contact him. His continued failure to make the property safe resulted in his appearing before Ealing magistrates on 7 January where he was found guilty of failing to comply with the notice and ordered to pay a fine and council costs totalling £4964.49.
Councillor Ranjit Dheer, cabinet member for safety, culture and community services, said: "There is no place in this borough for slum landlords who are willing to put their tenants' health and safety at risk for pure profit. Ealing Council is working hard to make sure that dangerous landlords feel the full weight of our powers and I am delighted to see these two selfish and irresponsible individuals found guilty."
To report any concerns in relation to suspected illegal outhouses or disrepair in private rented property please contact the council's regulatory services on (020) 8825 6622 or email propertyregulation@ealing.gov.uk.
The council is currently consulting on proposals to introduce licensing for some private landlords. Residents can give their views by going to www.ealing.gov.uk/consultations
18th January 2015