See five short plays for just £12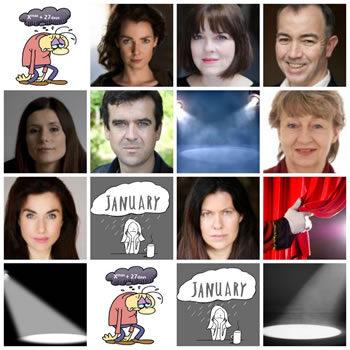 According to the statisticians there is precious little for us to be cheerful about by the third week of January. Increasing debt, rising divorces, broken resolutions and terrible weather combine to make this the most miserable week of the year.
That's not the case at OPEN Ealing!
Time to join with writers and actors from the Green Curtain theatre company as they present an evening of 5 short new plays looking at the January Blues.
Acting Up by Maureen Alcorn | Two sisters sorting out a few urgent matters. (Kathleen Ryan & Jasmin Gleeson)
One Man's Junk by Anne Curtis | Personal home organiser Darlene's New Year's resolution is to help the elderly declutter their homes... (Roisin Monaghan & Joan Plunkett)
Guardians of Dawn by Faik Luta | It is mid-January and minicab controller Robbie O'Toole is back at the office for his first nightshift since his wife Mary's stroke on Christmas Day. (Teuti Skenderi & Jimmy O'Rourke)
The Reunion by Gemma Mills McGrath | 25 years ago Janey left Eddie standing at the altar in Dublin, she's now flown in from the States to see him. (Jacqueline Johnson, Roisin Monaghan & Aonghus Weber)
Sweet Shop by Lorraine Mullaney | As St Valentine's Day approaches two lonely flatmates look for love online. (Jacqueline Johnson & Aonghus Weber)
Playwrights will be in attendance and the evening will finish with discussions about the plays with them, the cast and director.
Tickets £12/£10 including a drink
Details & bookings
18th January 2017