Film studios to represent borough on 2012 badge
Related Links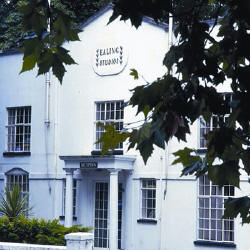 Ealing Studios. One of the great names in British entertainment, Ealing Studios is famous around the world as the home to the great Ealing comedies of the 1940's and 1950's. It' s the oldest film studio in the world still in production.

Complete list of winning landmarks
Participate
Sign up for our free newsletter
Comment on this story on the
The legendary Ealing Studios will feature in a celebratory set of London 2012 'Landmark London' pin badges to go on sale next year.
Londoners had from Monday 14 September until midnight on Sunday 18 October 2009 to cast their vote from a list of nominations. Other winning landmarks include Chiswick House, Hammersmith Bridge and Richmond Park.

Sebastian Coe, Chair of the London 2012 Organising Committee, said:
"As we approach the 1,000 days to go milestone, here is one way over seven thousand Londoners are already involved in the 2012 Games. The landmarks chosen by the public for the pin set showcase what Londoners want the world to remember about their borough."

Merrick Cockell, Chairman of London Councils said:
''The huge variety of landmarks Londoners have chosen to represent their local area highlights the fantastic diversity we enjoy in the capital. From iconic stations to film studios or historic parkland – London has it all, and we can't wait to showcase it to the world in 2012."

Each landmark will be re-created into a metal pin alongside the London 2012 logo.
Designs will be unveiled early next year by London 2012 and London Councils.