Heart failure unit has managed to reduce number of admissions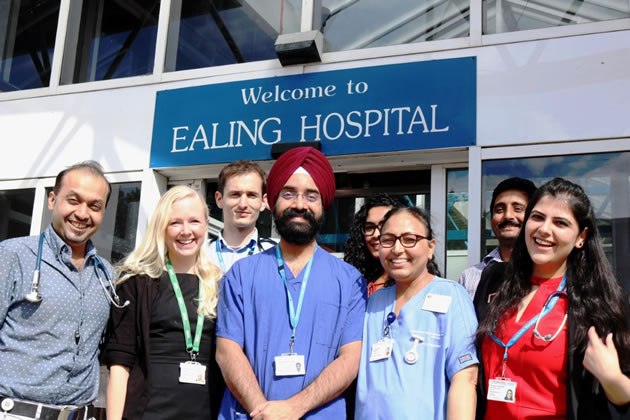 Ealing Hospital's Heart Failure unit has been shortlisted for a national award after it managed to reduce the number of patients being admitted with heart conditions.
The unit offers a 'one stop' service so the majority of patients return home the same day helping reducing A&E attendances and demand for hospital beds.
The initiative has been shortlisted for the Health Service Journal Awards in the 'acute sector innovation of the year' category
Dr Harmandeep Singh and Dr Stuart Rosen proposed the six month pilot after London North West University Healthcare NHS Trust admitted more than 2000 people during 2017/18.
Dr Singh said: "It is a national problem which costs the NHS more than £5 billion a year and the pressure on bed space is only going to increase unless we see a sea change in lifestyle.
"I regularly see patients who, through no fault of their own, are spending too long in hospital because we don't have an effective early intervention programme."
The new day care unit, which is based in the hospital's ambulatory care unit, goes far beyond existing units in the NHS and has won the support of both Imperial College London and Ealing Clinical Commissioning Group
The unit offers specialist reviews by a consultant cardiologist and diabetic and respiratory nurses; treatments like diuretics, intravenous iron infusions and blood transfusions; specialist investigations and procedures; onward referrals for advanced heart failure treatment; and daily and weekly check-ups as required.
More than 99% of patients said they would prefer to come to the lounge rather than be admitted to hospital.
The team saw 212 patients during the six month pilot and helped 190 people avoid long hospital admission. Several patients required more than one attendance but only a few required hospital admission.
The unit, which accepts referrals from the hospital's emergency department and community heart failure nurses, offers a holistic approach which has been welcomed by clinicians and patients.
Dr Singh added: "The initial results are very exciting and our hope is that this sort of unit could be rolled out across the UK.
"The ongoing challenge in the NHS is how to get more value from what we have and we're offering a service that makes use of our existing resources as well as delivering better outcomes."

August 29, 2019