Meet a local writer with more than a few stories to tell
Local author Roy Bartlett, 84, recently updated his autobiographical account of life as a schoolboy in Ealing during WW2.
A Little Boy's War vividly recounts his experiences.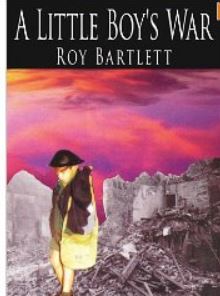 At 14 he started work at the A.E.C works in Southall, he served two and a half years National Service in the R.A.F before moving to West Ealing.
Roy was founder and president of Viking Sports Football Club, famed for its innovative and ground breaking goodwill tours, including the Soviet Union in 1965 at the height of the 'Cold War' and an ill fated tour of Eastern Europe in 1968 when the party were caught up in the Russian led 'Warsaw Pact' invasion of Czechoslovakia.
Over 67 years he has been involved in many diverse community projects and was recognised in 2001 by inclusion in the New Years Day London Roll of Honour for services to the London Borough of Ealing.
Now disabled as a result a leg injury sustained when he was 10 by the blast from a parachute mine which fell close to South Ealing Station during the Luftwaffe 'Blitz' on London in 1940.
He is married to Beryl and has one child and two grandchildren - he says he is often seen ' trundling the leafy lanes around West Ealing on his mobility 'Buggy' as local residents scatter in terror!'

What are your memories of that parachute mine explosion - are they still vivid?
My memories are very vivid and undimmed by time. It was 1am on the night of September 27th 1940. I was asleep in the public air-raid shelter in the strengthened cellar beneath my parents hardware shop in South Ealing. My first conscious awareness was that my head hurt, my ears and legs hurt and why was I lying on the cold stone floor choking with dust in total darkness?
In fact, all the crowded occupants that night had been hurled out of their bunks and chairs and hurled forward into a terrified heap. My right foot had evidently slammed with force into a brick wall and crushed the cartilage, ironically the only real casualty, discounting cuts and bruises to others. A parachute mine was at that time the largest device with a 1 ton warhead, designed to explode on contact and thereby cause maximum widespread damage.
Next morning as my father struggled to get me to the old Mattock Lane Hospital the extent of the devastation was awesome and that image has remained with me to this day. If I am in the area of South Ealing Station I do not see the new shops and regenerated area, my mind instantly flashes back that image of 74 years ago - or was it just last week. ?

How has it affected you since then?

The hospital was under great pressure that morning with many casualties, I was understandably low priority and by the time i was attended to they had run out of plaster. My foot was encased in a swathe of elasticated sticky bandage. Aged 10, I guess that some cartilage regenerated, but it remained very weak. As I grew older the pain and limp worsened forcing early retirement and 2 replacement hips. Aged 84 now, little can be done to alleviate the ankle problem, just keep taking the pills! Compared to the 7 close shopkeeper neighbours and friends who were killed, 3 never found and 12 seriously injured, my family and I really were the lucky ones.

Are you still involved in football/sport?
Unfortunately Viking Sports Football Club of which I was so proud to be founder and President was forced to close a few years ago due to severe financial constraints and a lack of voluntary assistance after 60 years of achievement including the progression of 9 young players to the professional ranks, 2 of whom became England internationals - Les Ferdinand and Alan Devonshire. However, a legacy of valued friendships and memories will never fade. I maintain an avid interest in local sport and the success of my son Gordon, manager of Wealdstone FC for the past 18 years and newly promoted to the Conference South League. He received 'Lifetime Achievement' and ' Manager of the Year' awards this year.

Whereabouts in West Ealing do you live?
Drayton Grove West Ealing since our marriage in 1954. Maybe 'stick in the muds' but a reasonably quiet Cul-de-sac with Drayton Primary School at the end. The greatest asset is kind and helpful neighbours around us. Beryl and myself are now the oldest residents of the Grove in both senses of the word.

You must have seen many changes - changes for the better or worse?
I bought my first car in 1956. Then only the second car in the road, now we are inundated and in a C.P.Z! The landscape from West Ealing to Ealing Broadway has changed dramatically with a profusion of not so pretty towering office or residential blocks springing up like a rash. The price of progress I guess, but far removed from the pleasant vista of the Uxbridge Road that I recall with its quaint individual shops with personal service.

How could Ealing be improved?
My pet hate is the litter strewn streets despite the many bins. This becomes so evident when out and about on my mobility scooter. Not necessarily a Council cleaning deficiency, but more a lowering of standards and decency by individuals
Do you have favourite shops/restaurants in Ealing?

With both of us disabled, shops and restaurants are difficult, but we do enjoy an occasional lunch at the Onik Cafe near West Ealing Station.

Do you have a favourite book/film?
My favourite book and film is 'Reach for the Sky' The inspiring life story of Douglas Bader the legless flying ace of the' Battle of Britain,' portrayed so brilliantly on film by Kenneth More. A legend in his own lifetime displaying an incredible defiance and disregard of disability.

Are there any special places in Ealing you like to visit?
Our special place is Gunnersbury Park and Museum. I recall the thrill of seeing the installation of a battery of 8 heavy anti-aircraft guns at the South Ealing end in 1940, but a more personal memory is the distinction of holding our wedding reception in the grand hall of the mansion in 1954 prior to its conversion to a museum. Reputedly only the second such occasion following a Rothschild family reception in the late 1800s which the king and queen attended - we could not match that!
What motto or slogan would you use to sell Ealing to others?
In days gone by Ealing was known as the Queen of the Suburbs. Indeed, Lord Haw Haw (The traitor William Joyce) quoted this in one of his nightly propaganda broadcasts from Germany gloating in its supposed total devastation. Thankfully not quite so!

What would you have for yourself - if any?
My life has been inspired by the indomitable spirit and strength of character displayed by my parents throughout WW2 On the morning after the mine explosion they opened our shop for business despite no windows or door and stock strewn across South Ealing Road. The epitome of 'Keep calm and carry on'. My book is dedicated to their memory .


A Little Boy's War is available in most book shops/via Amazon or - or direct from the publisher AuthorHouse quoting ISBN. 978-1-4678-9828-7(e)
locally it's available from the West Ealing Newsagency (opposite the Drayton Court Hotel in West Ealing) who have topped 250 sales and always have copies in stock.
6th August 2014