Council will continue to monitor Molana after string of offences
Related Links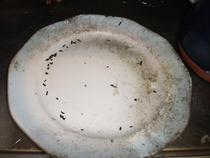 Mouse droppings on plate in kitchen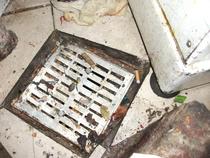 Filthy kitchen floor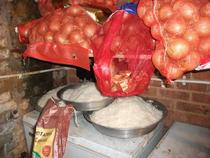 Cooked rice below raw onion
Participate
Sign up for our free newsletter
Comment on this story on the
A Persian restaurant in West Ealing which was given an emergency closure order will have to pay more than £11,000 for a series of food hygiene offences.
The owners of Molana restaurant at 78 Uxbridge Road, pleaded guilty to nine offences at Ealing Magistrates Court on Tuesday, 29 October 2013.
The court heard that Ealing Council's food hygiene inspectors visited the premises on a number of occasions and issued verbal and written advice as well as hygiene improvement notices. Despite their warnings, conditions deteriorated and on a visit on 29, January 2013 inspectors were so concerned about the risks posed to health that they issued a hygiene emergency prohibition notice to immediately close the business until concerns were addressed.
During a previous inspection, inspectors found the back yard was used to cook and store food. Freezers and tinned food on shelves were left open to the elements in an area in the yard. The yard also contained gas cooking rings. Inspectors were concerned that this area would be open to pests and rainwater. They also found cigarette butts on the kitchen floor.
At a follow up visit inspectors found an inadequate temporary shelter had been placed over the back yard. They also found food such as stew in the freezers with no date labels in order for staff to tell how old it was.
Inspectors were also concerned that cooked food was not being cooled properly before refrigeration and could become a breeding ground for bacteria which cause food poisoning. The restaurant's habit of storing ready-to-eat food alongside raw meat or fish could also have led to outbreaks of E.coli. In one instance a ready to eat starter was found on top of a mincing machine.
Other hazards found on that visit and in January included:
* Mouse droppings in the kitchen floor
* Inadequate training of staff in food hygiene.
* Cooked rice not being cooled or stored safely which can easily lead to food poisoning.
Molana LLP was fined £7,000 for the offences and ordered to pay the council's costs of £4,750 and a victim surcharge of £120. This brought the total to £11,870.
The court heard that more than £40,000 of improvements to the restaurant have been carried out since inspections and that food safety training has been carried out. The council continues to monitor the restaurant.
Cabinet member for community services and safety, councillor Ranjit Dheer said: "This business displayed a blatant disregard for its customers' safety by ignoring warnings and advice from hygiene inspectors who even offered to take them to another restaurant to see how things should be done.
"I'm pleased that their irresponsible behaviour landed them with a hefty fine and I hope this serves as a warning to anyone else thinking they can put the public in jeopardy."
Anyone concerned that a business is breaching food hygiene regulations should contact the council's food safety team on 020 8825 6666, or via email at foodsafety@ealing.gov.uk.
Go to the Food Standards Agency's website www.food.gov.uk to check the hygiene rating of any food business in the borough.

6th November 2013