Special 'prefabs' built to try and help accommodate homeless families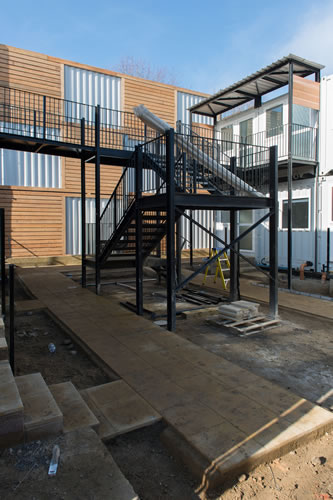 Modular homes built to provide temporary housing in Hanwell will go on show next week.
The Marston Court development on Bordars Walk, will provide accommodation for local families who are homeless.
The council say Government's changes to benefit rules, alongside steeply rising rents, has resulted an increase in homelessness with many families having to be accommodated in expensive bed and breakfast accommodation. The modular homes will provide a better temporary solution for both the families affected, and the council.

There are 34 separate homes - a mixture of studio, one bedroom and two bedroom units. Each has its own front door, shower room and toilet, as well as a kitchenette. The site also has a play area, laundry room, and management office.

Ealing Council and the development company, QED Sustainable Urban Developments, will be hosting an open day Wednesday 8th March from 10am to 2pm. Residents will be able to take a look around the landscaped site and inside the housing units. Staff from Ealing Council and QED will be on hand to answer questions.

Councillor Jasbir Anand, cabinet member for housing, said: "This site was previously occupied by disused, derelict and unsightly council garages that attracted fly-tipping and anti-social behaviour. This development is a huge improvement and will provide a temporary home for local people who find themselves in the incredibly difficult and distressing situation of being made homeless.

"We know that local people have been curious about the site, so I invite them to come along on Wednesday, 8 March to see the development for themselves and find out more about why it is needed."

Temporary planning permission of ten years has been granted for the site.


2 March 2017