Elderly and timid dog had been renamed and was to be rehomed
The owner of an old timid terrier who reported him missing in South Ealing is overjoyed to have him back home, safe and well.
'Mister' who needs daily medication, disappeared on Saturday 15th March and was last been spotted on Argyle Road in W13.
His owner was distraught and put posters up in a wide area as well as using social media to appeal for his whereabouts. She received a variety of messages and she managed to work out that he had somehow crossed the busy A40 and arrived in Perivale.
Mister had been handed in to police in Wembley - but because of a lack of communication between various departments she wasn't informed and the terrier was taken to an animal rehoming centre in Kensal Green.
Mister was there for two weeks, he had been renamed Jasper and was in the process of being rehomed.
His owner says she can't believe she nearly lost him for good but luckily he was eventually traced back to her.
Mister hadn't been microchipped - but has been now.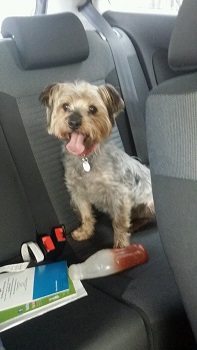 Doesn't he look happy to be going home?
3rd April 2014