Do you know local charity that would benefit?
Related Links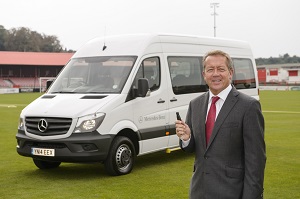 Patron of Axis (and premiership football pundit) Alan Curbishley with the minibus
Participate
Sign up for our free newsletter
Comment on this story on the
South London based charity, the Axis Foundation, is donating a brand new Mercedes Minibus to a worthy local cause and looking for nominations from Ealing.
They are a long-time supporter of causes, helping hundreds of smaller charities reach thousands of people in need, through their donations and volunteering.

Until the 21st November 2014, the Axis Foundation is accepting applications from registered charities wishing to be considered for this generous donation.
So whether you work for a charity or know of one doing a great job please let them know about this opportunity and that full details can be found on www.axisfoundation.org/minibus along with the application.

You can also help decide on the charity that receives the minibus by taking part in the public vote that will take place on the same website between the 8th and 12th December.
Last year the Axis Foundation donated over £120,000 to great causes, from children's hospices to education programmes, which included gifting a minibus to a school for autistic children. The vehicle enabled a programme of outdoor activities for their students, the majority of whom are unable to use public transport because of their disabilities.
Feedback from the school is that the transport is allowing students to experience museums, the coast and countryside as well as participating in activities in their local community like swimming – things others take for granted, but makes a huge difference to the quality of life for the children.

The Axis Foundation is hoping to repeat the far reaching benefits of their previous minibus giveaway by finding an equally great cause for this latest gift.

13th November 2014