Badminton star Elizabeth Cann will help pupils at Alex Reed Academy
Four students from Alec Reed Academy in Northolt have been selected to take part in a life-changing mentoring scheme.
The students from Years 8 and 9 have been chosen for the AQA Unlocking Potential programme, run by exam board and education charity AQA and the Dame Kelly Holmes Trust.
They will be mentored by former Badminton Player, Elizabeth Cann. Alec Reed Academy is one of 20 on this year's programme, selected from over 75 applicants.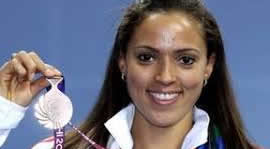 AQA Unlocking Potential provides mentoring for young people aged 11 to 19 who have faced personal challenges or disadvantages. Students are paired with specially trained mentors who have competed at world-class sporting events - including the Olympics and Paralympics - and have overcome their own significant personal challenges.
Elizabeth Cann will provide personal mentoring for the students over eight months to help unlock hidden attitudes and skills. They'll also help the students to deliver a social action project towards the end of the programme.
Trudy Puddle, Access and Inclusion Centre Co-Ordinator at Alec Reed Academy said:
I have worked with the Dame Kelly Holmes trust twice so far on the On Track To Achieve programme and I am excited to be working again with them on the Unlocking Potential programme. I have seen the impact that these programmes have on our students, through working with the sports mentor they enable the students to believe in themselves; giving them the tools to go forward in their future and helping build their self-belief that they can achieve any goals that they set.
Toby Salt, Chief Executive of AQA, said:
"Realising potential is our AQA motto and what better way to demonstrate that ethos than by unlocking the potential of this specially chosen group of young people. I look forward to seeing them grow in confidence and achieve great things with their social action projects over the next eight months and everything they do in the future."
Dame Kelly Holmes, double gold Olympian and founder of Dame Kelly Holmes Trust, said:
"AQA Unlocking Potential is not aimed at developing the potential of future sports stars, but targets young people who need an inspirational helping hand. The athlete mentors will work with these young people to develop skills and knowledge to increase attainment as well as improve their confidence, resilience and self-esteem.
"I'm really excited that this fantastic programme is now in its eighth year and to see more young people transformed through our life changing programme!"
Of the students who took part in AQA Unlocking Potential last year, at the end of the programme:
* 85% felt more confident
* 83% felt more motivated
* 74% were more determined
* Teachers reported that that 65% of students were achieving grades A to C, compared to 50% at the start of the programme
8th January 2019