Killed as he tried to protect his family at anniversary celebration
A renowned artist who lived in Hanwell has been killed as he tried to protect his wife and daughter from gunmen in South Africa.
Clinton De Menezes, 43, was shot in the chest during a raid at a friend's house near Durban.
The family had lived in Hanwell until last year when they moved to Kenya.
Mr De Menzes, whose work has been exhibited in galleries across London and in New York's Metropolitan Museum of Art, created a striking art installation - a representation of a map of Hanwell with thousands of hand drawn people - for the opening of the Clocktower Cafe in W7 last July.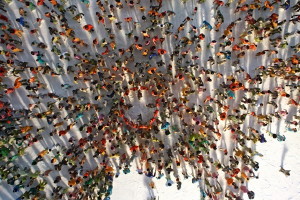 Last night friends held a candlelit vigil in De Menezes' memory at the Cafe, owned by family friend Morna McAulay
Police in South Africa have arrested four suspects after recovering a 9mm pistol from the scene.
Read more here
7th January 2014