Smuggling ring smashed in joint operation
Related Links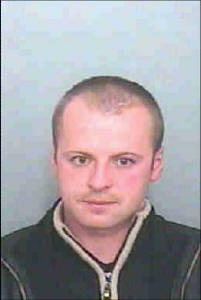 Artur Rakovskij: Sentenced to nine years' imprisonment.
Rafal Wolanski: Sentenced to four years' imprisonment.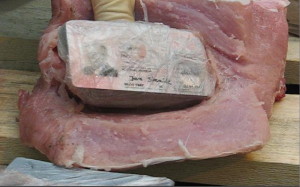 Cards concealed in the meat
Participate
Sign up for our free newsletter
Comment on this story on the
Two men were from Greenford and Northolt have been sentenced to a total of 13 years in prison for smuggled fake identity cards into the UK in packages of meat.
Artur Rakovskij,36, from Girton Road, Northolt, and Rafal Wolanski, 29, from Rydal Crescent Greenford had a portfolio of pictures which they would match to a person requiring entry to the UK before sending the necessary travel and identity documentation to him or her prior to travel. Depending on the requirements they would charge up to €5000.
The Serious Organised Crime Agency (SOCA) and UK Border Agency (UKBA) investigation found that the pair worked out of Rakovskij's home in Northolt, but kept the illegal documents in safety deposit boxes in London.
Under surveillance, Rakovskij was seen entering a safety deposit company, removing a package and posting it to Italy.
Officers intercepted the package, which contained Lithuanian passports and ID cards, Polish ID cards and driving licences.
Rakovskij and Wolanski were arrested in February 2012. A search of Wolanski's car found two joints of meat containing twenty nine original Polish and Lithuanian ID cards and passports. Further searches of Rakovskij's home found approximately 700 original Polish, Lithuanian, Latvian, Italian and Russian passports, ID cards and driving licences.
A number of false UK and European immigration stamps, numerous credit cards all in different names and various other false official documents were also recovered.
SOCA officers, during follow-up searches of two safety deposit boxes, seized £10,000 cash and a further 300 passports, birth certificates, ID cards, national insurance cards and further false immigration stamps.
The investigation was in partnership with UK Border Agency.
SOCA's Brendan Foreman said:
"This criminal organisation facilitated large-scale immigration crime with the potential to generate huge illegal profits.
"The investigation has highlighted once again the determination of organised criminals to innovate in a bid to evade law enforcement bodies, and to profit from causing harm to UK communities. These individuals were thwarted, however, and their imprisonment should serve as a warning to anyone tempted to involve themselves in this type of unlawful activity."
"The cooperation of UK Border Agency was vital in bringing the investigation to a successful conclusion."
13th September 2012