£6,000 donation to create new garden at Ealing hospice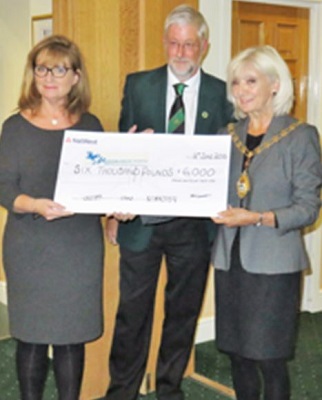 Meadow House Hospice has been presented with a cheque of £6,000 from Ealing Golf Club.
Last year's Ealing Club Captain, David Stiff, (pictured above) helped raise the money through various member's events and donations during his year.
In presenting the money he applauded the valuable role Meadow House plays in our local community: ''Meadow House is a genuinely caring institution and does a wonderful job for Ealing. There is a personal connection too, with my late father and several past Ealing Golf Club members benefitting from their care.''
Meadow House use donations from the public to fund projects that enhance the basic care provided by the NHS.
Ealing's new mayor Councillor Dr. Patricia Walker joined in handing over the cheque to Leslie Walsh ( pictured on left), a senior nurse specialising in palliative care at Meadow House.
She said: ''We can't thank you enough, the monies raised will be used to enhance and improve the garden area at the rear of Meadow House and much appreciated by patients, their relatives and friends, and staff.''
8th June 2016