Around 400 people told Labour Party is 'bigger than 170 MPs'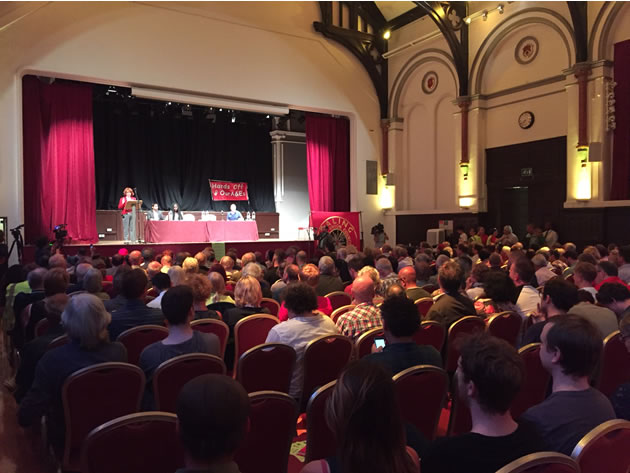 The hall during the meeting. Picture: Adam Marley
Shadow Chancellor John McDonnell (MP for Hayes and Harlington) was one of the speakers at a rally for Jeremy Corbyn at Ealing Town Hall on Wednesday, (August 31).
Around 400 people attended the rally which was addressed by speakers including Fire Union General Secretary, Matt Wrack, student activist Barbara Ntumy and writer and activist, Salman Shaheen Brentford.
Speeches covered housing, the economy and the NHS as well as tales of misdeeds of the Labour party with a 'concentrated coup' against Corbyn from the time he announced his leadership bid and Pamela Fitzpatrick, a labour councilor in Harrow, who told how she'd been suspended from the party but does not know why despite numerous requests for information.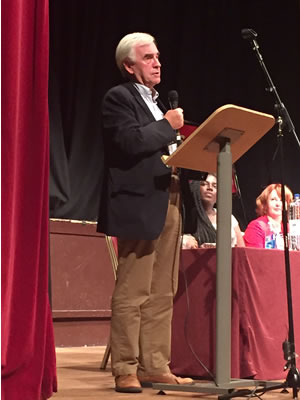 Picture: Adam Marley
The overriding message of the night from the platform was that 'the Labour party is bigger than the 170 official MPs' and that all members' votes make a difference.
There is always an element of "preaching to the converted" at meetings like this, but Mr McDonnell told me afterwards it had been a good rally with intelligent questions and a good audience response. "It's invaluable getting out into communities and connecting with our members".
Voting for Labour Leader is taking place until Wednesday 21 September 2016 at 12:00 noon (online).
The result will be announced at a special conference in Liverpool on 24 September.
Viv Ellis
September 1, 2016