Road closures still in place on Mattock Lane
National Grid say they're doing all they can to repair a damaged gas main which caused residents to be evacuated from their homes on Mattock Lane.

It happened on 30th January - and two weeks later the work is still ongoing.
National Grid says it's a complicated repair.
A spokesman told Ealing Today:
''A temporary repair to a damaged 30 inch medium pressure gas main was carried out last week. We are currently working on a permanent repair which involves laying a new section of gas main to replace the damaged mains.
''Our work is progressing and we are doing all we can to complete it as soon as possible. Some repairs take longer than others and present complex engineering challenges. We are continuing to maintain gas supplies to local homes , businesses and community facilities. In order to complete the work the road closure in Mattock Lane between the junctions with Broomfield Place and Churchfield Road will need to be maintained for the time being.''
If people require more information about the work they can call 0845 835 1111 or email customersupport@nationalgrid.com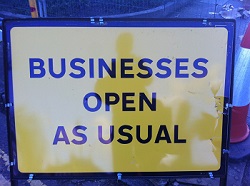 13th February 2014