Primary school pupils get to finals of competition
Related Links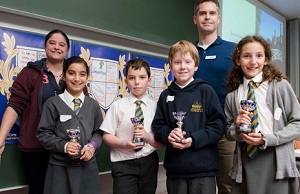 Dr Julia Gog, Sheyda, Sam, Anthony, Paul Grosvenor from Explore Learning and Sophia
Participate
Sign up for our free newsletter
Comment on this story on the
A team from North Ealing Primary School were Runners Up in this year's National Young Mathematicians' Awards.
The team of Sheyda Ghodrat, Sam Bonnett, Anthony Glowacki and Sophie Sandelson battled through two tough rounds to make it to the grand final at the University of Cambridge on Tuesday 8th December.
The competition, organised by tuition provider, Explore Learning and the NRICH Project at the University of Cambridge, saw the team fight valiantly in the final before being awarded their runners up prizes from maths expert at the University of Cambridge, Dr Julia Gog and Paul Grosvenor from Explore Learning.
The main aim of the competition is to encourage children to see the fun that maths can bring and the potential that it can reach while building children's confidence.
Paul Grosvenor, Marketing Director at Explore Learning says: "There has been a real buzz around this year's National Young Mathematicians' Awards and we've been thrilled with the response from schools, parents and children all over the UK. With so many schools having entered the competition, Sheyda, Sam, Anthony and Sophia did amazingly well to make it through to the final; their fellow pupils, teachers and parents should be hugely proud of them! All finalists did an incredible job to make it to the University of Cambridge and we hope this really instilled a sense of confidence in all the entrants – perhaps there is a future Professor Hawking in our midst!"
The National Young Mathematicians' Awards is the biggest maths competition for school teams in the UK, open to teams of four children (two boys and two girls) aged nine to 11.
The winning school was Badger Hill Primary School in York, while the other finalists were Thatcham Park Primary School near Reading, St Christopher's in Dunstable and Hurst Primary School in Bexley.
Explore Learning, the organisers of the awards, ran maths workshops with schools throughout the country. They are an award-winning provider of extra tuition for children aged 5 to 14 with 120 centres located across the UK. All their courses are tailored to each child's individual needs and classes have proved extremely popular for their fun and vibrant atmosphere that encourages children to love learning.
www.explorelearning.co.uk/youngmathematicians
December 16th 2015
r