Martin Alvarado at the New Inn in Ealing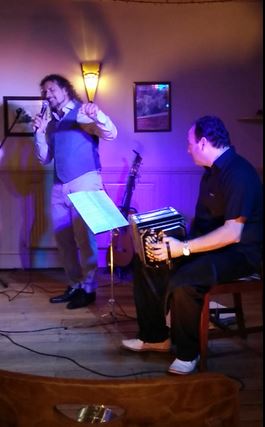 Whilst most of Ealing was glued to the television watching the France v Germany Euro match last week, I was transported (albeit not literally!) from the New Inn pub on South Ealing Road to a sultry bar in Buenos Aires and privileged to experience an absolutely phenomenal performance.
Argentinian Martin Alvarado is a wonderful tango singer - with a voice of such quality you are instantly mesmerised. My previous knowledge of tango was just as the famous dance but the music and songs have been in existence far longer.
Described as ' a new Carlos Gardel' (yes, I had to google it too!) Martin sings with sensitivity and passion - his tenor voice soars and sends shivers down the spine. The small but perfectly formed audience was transfixed from the off.
Supported by the equally talented Carlos Qulici on the Bandoneon, ( a better word than accordion or squeeze box I think), this musical experience was worthy of Sadler's Wells -amazing to see such top quality at a local pub.
Praise must go to OPEN Ealing and LTango Promotions for sharing this fabulous musical night with us here in Ealing.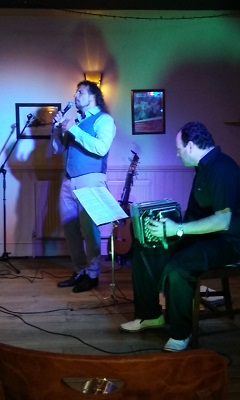 I, for one, hope to see Martin and Carlos back here again and urge when they do return lots more people should go and see them - please don't miss out on this sublime treat - football match or no football match.
Annemarie Flanagan
14th July 2016