A quarter of a million people attend demonstration
More than 250,000 people attended a march and rally in central London against public spending cuts which passed off peacefully.
Labour leader Ed Miliband addressed crowds in Hyde Park and the main march organised by the Trades Union Congress was good natured and friendly.
Ealing resident Allison Franklin sent us some images of a few of the placards and writes (below) her impression of the day:

Yesterday's march against the cuts in Central London was an enormous success, despite the headline-grabbing behaviour of some self-styled anarchists after the main event. Nearly half a million people made their way peacefully from Embankment to Hyde Park to protest about the focus of the planned cuts and the speed with which they are being implemented.
There was a huge UNISON, UNITE and GMB presence with branches from as far away as the Shetlands. Teachers, nurses, librarians, council workers, medical staff, youth workers, firefighters, coast guards, students, pensioners, social workers and civil servants all joined to make common cause against the fiscal decisions made by the coalition government. The rally in Hyde Park following the march was well organised and interesting. Big screens allowed everyone to see the speakers quite clearly and Len McCluskey (UNITE), Denise Marshall (CEO, Eaves Housing Association) and Mark Serwotka (CPS), amongst others, all made good speeches. Marshall made the point that it's the not the size of the society we live in, it's the level of civilisation within it that's important.
Doubtless there will be more occasions for marching and demonstrating in a peaceful manner during the next few years and anyone interested in doing so should not be deterred from joining a mass action by the news and print media's desire to crank up their viewing and readership figures.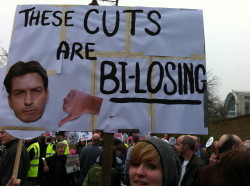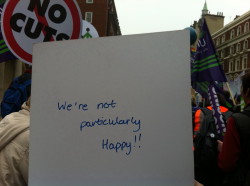 There has been widespread condemnation after small groups attacked shops and banks in the West End. There have been 214 arrests and 66 people injured, including 13 police.
27th March 2011