Baby Manu arrives in W7 quicker than expected
Related Links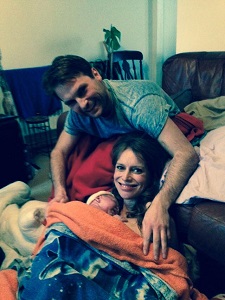 The happy family!
Posted on Facebook shortly after the delivery ( permission to use from Ben Edwards)
Participate
Sign up for our free newsletter
Comment on this story on the forum
A new arrival in Hanwell has caused joy to the community who became involved in the delivery - social media style.
When his wife Fiona Allen, 37, began to go into labour in the living room of their home on Bishops Road, Ben Edwards called the emergency services.
The operator talked him through the delivery process - just in case - but Ben, 37, says it was when he was told the ambulance had been diverted to another priority he began to panic.
On his wife's suggestion he took to the Hanwell Friends Facebook page and asked: ''Don't suppose there's an off duty midwife in olde Hanwell. Missus is coming bit fast!! (Dad).''
A steady stream of replies followed as friends and neighbours waited on tenterhooks hoping to hear the outcome.
At 4.53pm (Feb 10th) Ben posted:''All sorted thanks people. Manu born on the living room floor all healthy and mum doing grand Thanks to caring ambulance drivers and ealing midwife. x thank god I didn't have to do it . Brilliant job. Mum did great x''
The thread has been one of the most popular on the site with hundreds of people offering their congratulations.
Fiona, a teacher at Elthorne High School, somehow managed to find the time to reply: ''Thanks so much for all your lovely messages. Certainly feeling the Hanwell love tonight and very lucky to that our baby boy has been born into such a caring community. Baby Manu and I are doing great. Ben Edwards was an absolute star as were the ambulance crew and Ealing hospital midwife. Thanks again to you all and enjoy your evening. ''
Ben says he's overwhelmed with the response but says it reflects the friendly Hanwell community they are part of: ''I didn't have time to read the wikipedia link to 'How to Deliver a baby' that someone posted and thankfully it wasn't needed!!! It has been amazing reading back through the comments people left and definitely something we'll be printing off for baby Manu to keep.''
Baby Emmanuel Patrick - known as Manu - was born 10 February and weighed in at 9 and a half pounds.
Mum, dad, big brother Leo, and baby Manu are all doing well.
Big congratulations from Ealing Today!
17th February 2015