Jon Ball is out and about supporting Ealing traders
Local Councillor Jon Ball can often be found in Ealing's eating or drinking establishments and you are also likely to spot him in the queue of one of the many takeaways of South Ealing.
A great advocate of the borough's social life, Jon wants everyone to get out and about more to support local businesses.
Tuk Cho
Shortly before Christmas Tuk Cho emerged from the chrysalis of the Broadway Bar near the Town Hall and opened it's doors, serving an eclectic mix of south east asian street food from Thailand, Cambodia, Vietnam, Malaysia and Japan. Even the name hails from multiple countries, combining Tuk from the Thai tuk-tuk auto rickshaws one of which has somehow managed to turn up outside the restaurant, with Cho, the Vietnamese for market.
It's only to be found in Ealing so far but the format will be replicated in other areas if it's a success, so let's check out the food.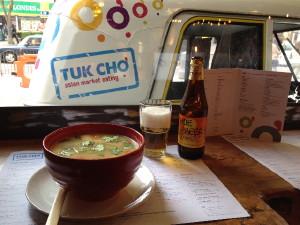 Sit down and grab some edamame - steamed salted soya bean pods from Japan that look peas in a pod but are incredibly moreish.
The chicken goi cuon from Vietnam were described on the menu as "super-healthy summer rolls filled
with fresh vegetables and asian herbs". They were a little too healthy for my taste, consisting largely of cold vegetables.
Things improved though with my daging rendang - a very tasty Malaysian beef curry with an interesting mix of flavours topped off with toasted coconut.
The pad krapow Thai stir-friend chicken dish my companion had was also a hit, with subtle flavours.
Everything arrived very quickly. It may be best to order in installments if you want a traditional starter and main course experience.
There's a wine list, but the best accompaniment in my opinion is one of the beers from the region - including Vietnamese Hue beer or Cambodian Kingdom Pilsner. 20p of the price of the latter goes to charity so you can drink while doing good.
On another occasion, I popped in to Tuk Cho at lunchtime on a freezing cold January day and had a big piping hot bowl of tom khaa kai which was perfect to warm me up and make me feel human again - lots of aromatic soup with tender chicken pieces, sweetcorn and tomatoes in the middle and vermicelli noodles at the bottom.
The lesson I learnt is that Tuk Cho is at its best when grabbing the right dish at the right time rather than trying to turn a street food concept into a western set meal.
If you want to be Ealing's Man or Woman About Town - send me a few lines about yourself and a short review.
2nd February 2012